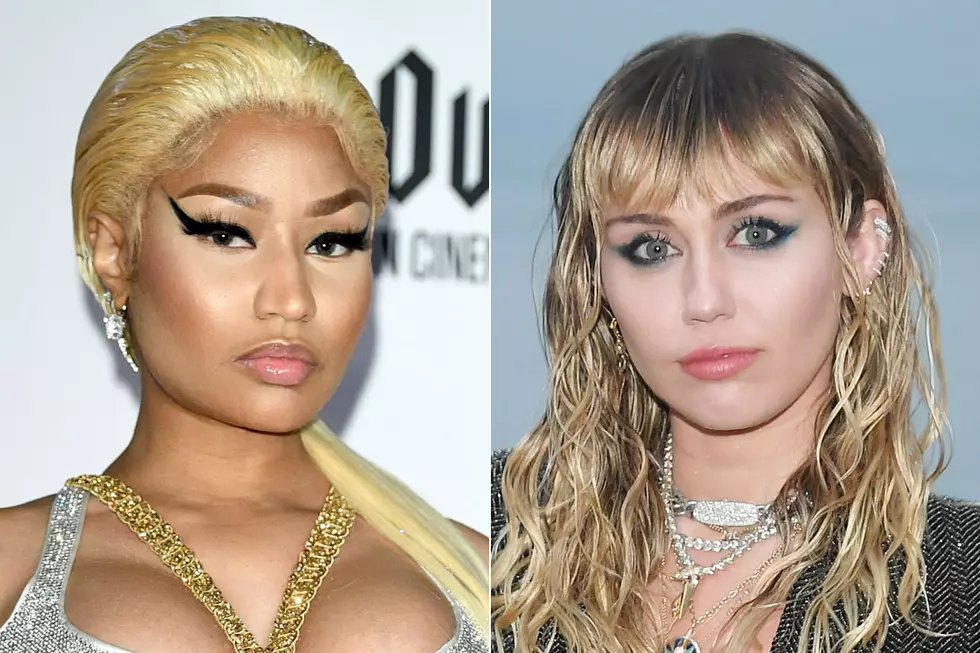 Nicki Minaj Drags Miley Cyrus, Compares Her to Perdue Chicken
Daniele Venturelli, WireImage / Neilson Barnard, Getty Images
Nicki Minaj has once again sent shots in Miley Cyrus' direction.
On Friday (June 21), Nicki jumped into an episode of Queen Radio and spoke on just about everything. At some point during the episode, she called out Miley and compared the singer's body to chicken.
"A Perdue chicken can never talk shit about queens,"  Nicki said addressing a new Miley song ("Cattitude") that finds Miley saying that she prefers to listen to Cardi B over Nicki. "But I do know there's a lot of Perdue chickens that's been trying to say a queen's name for clout, and that's always been happening—and that's what she did in the first place. And then she cried, you know, the White girl cry and made Black girls seem like she was a bad guy."
"She disrespected me in a magazine article for no reason... I had just seen her after she sucked Mike WiLL's dick in the studio," Nicki continued, alluding to an interview in which Miley spoke on her in a 2015 interview with Paper Magazine.
"Like, you sucked all that dick only to come out looking like a Perdue fucking chicken onstage and then got mad and went back to country music," Nicki added. "Sit your stupid ass down."
While Nicki seemingly mentions a purported Mike WiLL Made-It and Miley sexual encounter in order to throw shade, it should be noted that Miley and Mike have dated in the past, and some people believed they were still romantically linked at around the time she and Miley were in conflict with one another.
See reactions to Nicki's Miley diss for yourself below.
See Photos of Nicki Minaj's Different Looks Over the Years