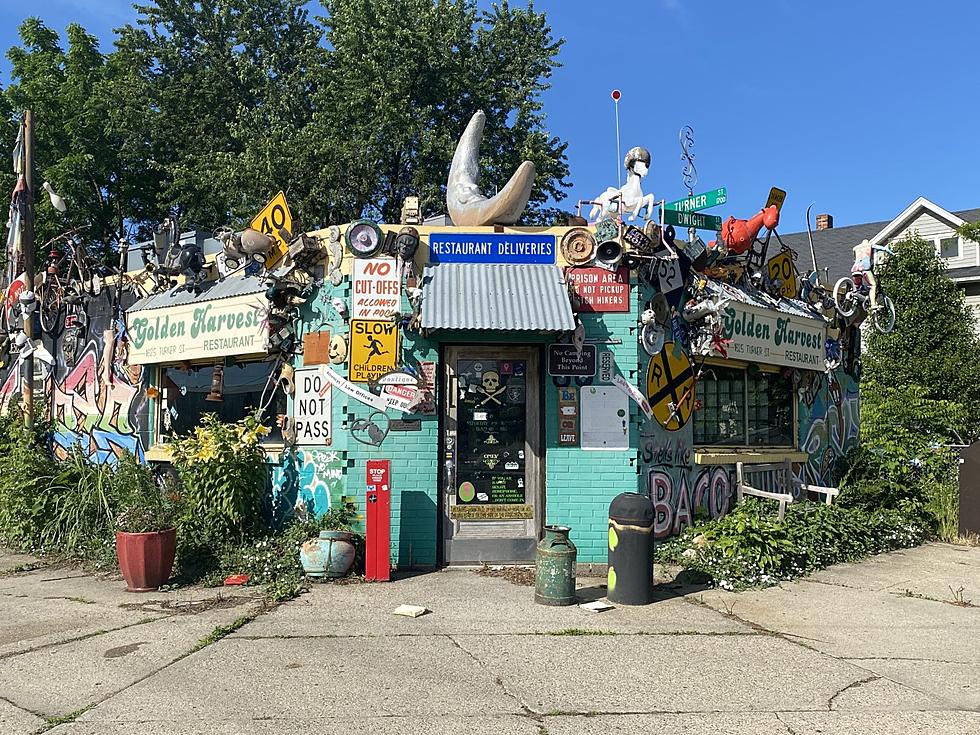 After Almost Two Years, A Lansing Favorite for Breakfast Has Reopened Their Doors
Photo courtesy of Brent Alberts
So many of us have had the chance to experience the deliciousness that is Golden Harvest. Take a look at the Elvis Waffle they served and one of their omelets, below.
This tiny and wackily decorated diner has a fierce reputation for serving up some heavenly and creative breakfast combinations, huge portions, and doing it all with a side of awesome music.  In fact, it's the one place that my friends always had to stop at when they come to Lansing for a visit. Their breakfasts are truly the stuff of legend.
Sadly, Golden Harvest closed their doors at the start of the pandemic. They tried to make it work for a little bit with carry out options (which they didn't normally do), but other factors affected them and they eventually closed their doors in May of 2020.
Golden Harvest was dealing with some back taxes, as well as a leaky roof. Plus, just the fact that it is a smaller diner, they couldn't very well operate at half capacity  like all dine-in businesses had to turn to. They started a GoFundMe for Golden Harvest that helped raise the money to repair the roof, amongst other things.
The owner, Vanessa Lugosi (formally Vicknair), said back in September of 2021 that there were plans to reopen the Lansing favorite spot for breakfast. Now, those plans have come to fruition!
Announced in the wee hours of last night/this morning (Wednesday, February 23rd), Golden Harvest announced that they are officially back open for business!
They kicked off last night with some stuffed and yummy-sounding grilled cheese and tomato soup on the side.
I hope that they'll be open for breakfast soon!
You know how I know Golden Harvest remains one of Lansing's favorite places for breakfast? When I asked Lansing last week who had the best breakfast, despite the fact that Golden Harvest wasn't open yet, and hadn't been for over a year and a half, people still gave Golden Harvest as their vote.
Until Golden Harvest starts slinging those home fries and eggs again, you can check out who else in Lansing is serving up a delicious breakfast in the gallery below.
These 22 Lansing Restaurants Serve Up the Best Breakfast Around
They say that breakfast is the most important meal of the day. Now, I don't know who "they" are exactly, but I have to agree. In fact, I would go so far as to say that breakfast is the best meal of the day...that's why so many places serve breakfast at any time of the day. When it comes to awesome places to get breakfast, the Lansing area has no shortage. Look through the gallery below and think about what kinds of breakfast plans you want to make for this weekend.
The 15 Best-Reviewed Restaurants in Lansing
From serving the yummiest food to providing top-notch customer service, these 15 Lansing restaurants are the best around. See below to find out which restaurants made the list.
These 15 Chain Restaurants are So Yummy that We Must Have Them in Lansing
Don't misunderstand; Lansing's food scene is absolutely incredible! It's got a variety of restaurants serving up a slew of delicious cuisines. But we think there's always room for improvement. Here are 15 chain restaurants that are so good that we think they should be added to Lansing's lineup, pronto!