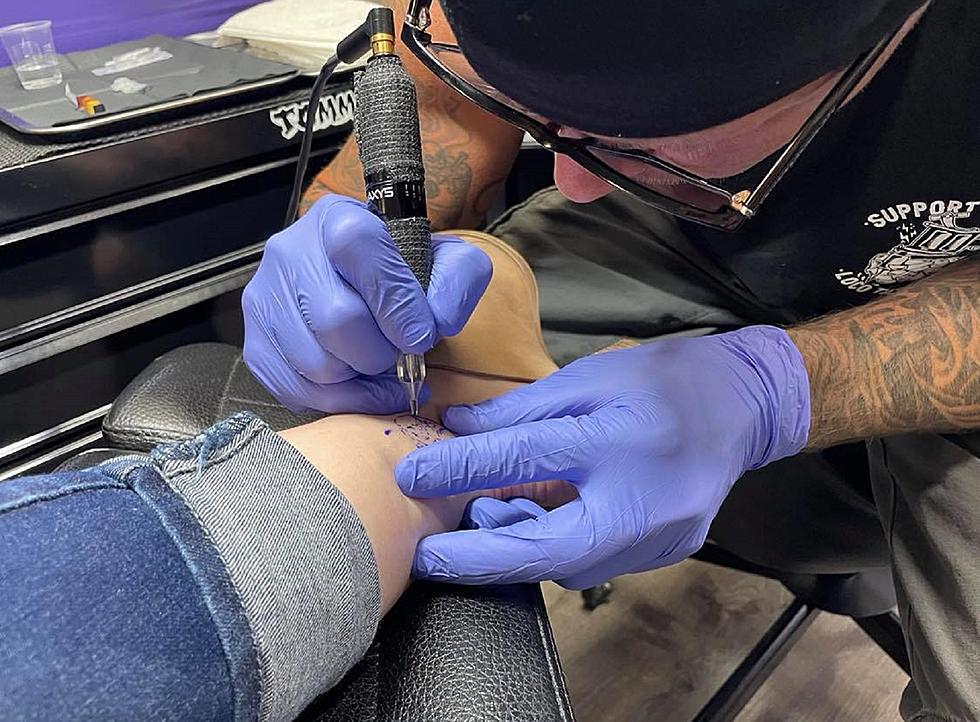 An Endless Thank You to Tommy Bravo at Ye Old Skull Tattoo in Jackson, Michigan
Maitlynn Mossolle
While I may not have many tattoos, and definitely not any "big" ones, the ones I do have are so meaningful to me and now, thanks to Tommy at Ye Old Skull Tattoo I have another one that means the absolute world.
My Previous Tattoos
This is not to say that every tattoo you have "needs" to come with a super deep meaning. Tattoos are art you wear on your skin to show the world what you are about. They're a form of self expression, of style, and for some, a lot of symbolism.
After getting my most recent tattoo done by Tommy, I now have three.
My first I got when I was 18 and it is an elephant on my left ribcage with the word "Relax" under it in my dad's handwriting.
My second is on my ankle and I got it to match with my mom and sister. It is an arsty version of a hand doing the sign for "I love you" in sign language. Then, my mom thought because I had my dad's handwriting on me, I should have hers too so underneath we each wrote part of "I Love You."
Basically, if I'm getting it tattooed on me, it means the world and want to make sure it is done right. That's where Tommy at Ye Old Skull in Jackson came in.
Trusting Tommy With My Most Meaningful
Now, my third tattoo is actually my first one I now have in memory of someone.
My grandfather passed away on March 30th of 2021 and it has been so hard trying to get used to him being gone and going through the process of grieving.
Part of me kept feeling like I was "already forgetting" him. Of course, I wasn't but that's what I was so afraid of. That's part of why tattoos are such a great way to pay tribute to them while also dealing with that feeling.
See, my grandpa was a huge jokester. One of my favorite jokes is actually one he would pull on just about anyone, whether he knew you for five minutes or five years.
He would ask you for two pennies. After you gave them to him, he would then give you one back and say "a penny for your thoughts?" He would then give you the second one and say "here's another one, keep your thoughts to yourself...now you have my two cents"
I always knew if or when that day came, I would get a penny tattoo in memory of him. Though his joke involved two pennies, I just wanted one to kind of symbolize that I'll always want another penny for his thoughts or just to show that the joke isn't complete without him.
My sister got the two pennies and it was really cool to see how Tommy could take what each of us wanted and still make sure they have the same idea but different look.
Here's how it went:
Getting Tattooed At Ye Old Skull Tattoo - Jackson, Michigan
Thank You So Much, Tommy Bravo
For every step of this process, even for such a small tattoo, you treated it like it was just as important to you as it was to me. You wanted to not only make sure it looked the best it could but was also exactly what I was envisioning.
The linework, the detail and the precision you have is unmatched and I am so thankful.
Your patience as I changed my mind about the placement to me being somewhat uneasy about adding color and guiding me into it, it was like you knew exactly what I really wanted it to look like and just didn't know how to articulate. You took it straight from my brain and put it on my skin.
Now, I will always carry a penny for my grandpa's thoughts. I can look at it and laugh, cry, feel like he is still with me and never forget him.
You are such a kind soul, an incredible artist and I just can not thank you enough.
Goosebumps and other bodily reactions, explained