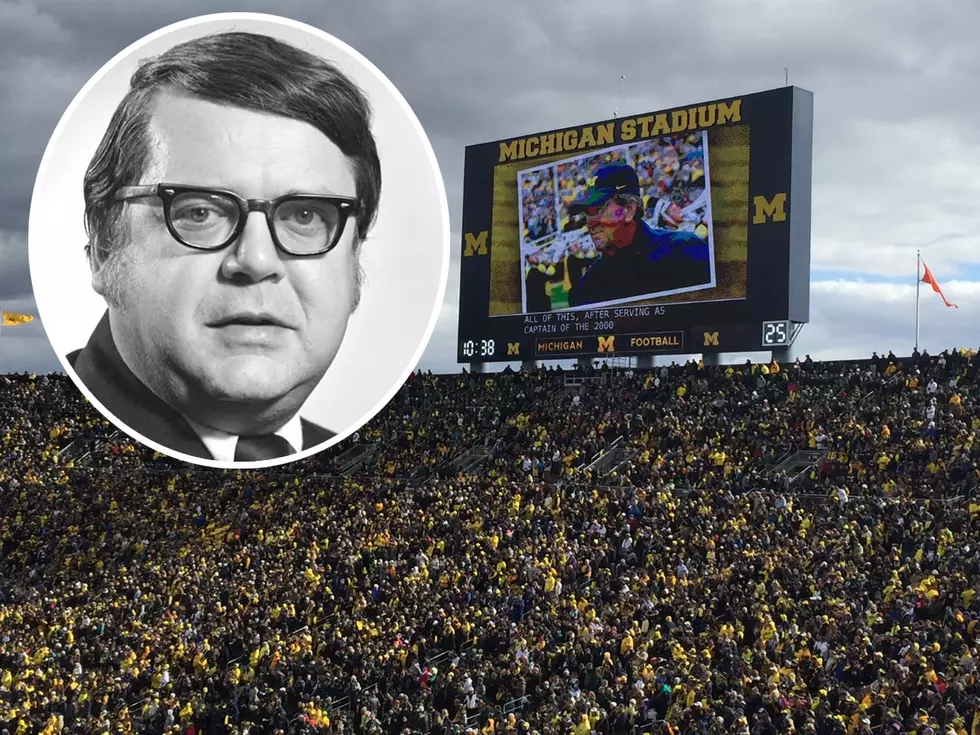 5 Things Actually Worth The Detroit Free Press Investigating, Unlike Michigan State Football's Donation Records
Robert Anderson, U-M photo | Michigan Stadium, TSM photo
The Detroit Free Press proudly announced Tuesday it's suing Michigan State for access to records regarding donations made last fall by billionaire alumni Mat Ishbia and Steve St. Andre to fund football coach Mel Tucker's contract extension.
In a vacuum, this is a rather unremarkable development in the journalism world. Reporters regularly submit requests, often under the Freedom of Information Act (FOIA), for information and documents. Public institutions are subject to that law, but that doesn't stop them from often trying to obstruct the media's and/or public's access to information and documents.
In this case, MSU rejected the Free Press' request on the grounds that releasing the records would violate Ishbia's and St. Andre's personal privacy. The Free Press disagrees:
"Contracts with public bodies are the essence of public records," Free Press Legal Counsel Herschel Fink said Tuesday. "The public has a right to know what promises MSU has made in exchange for these gifts and MSU and these alumni have publicly celebrated their generosity. There is nothing 'private' about these agreements."
I'm a former newspaper reporter who's made many similar requests of public institutions in the past, including MSU. I've also been involved in similar circumstances where the publication I worked for and I had to fight an institution to get access to records and information. I've had that kind of run-in with MSU before, in fact.
Given my past professional life, I often find myself naturally biased in favor of the reporter/newspaper in these situations. That is not the case this time, and for good reason.
Where was this same dogged muckraking from the Free Press when it came to perhaps the single-worst sex abuse scandal in sports history? Dr. Robert Anderson sexually assaulted hundreds of people over the course of his four-plus-decade reign of terror as a physician at the University of Michigan, including many years as the official football team doctor. He molested many Wolverine football players, whose cries for help were coldly and callously dismissed by legendary Michigan football coach Bo Schembechler, who victims say protected and enabled Anderson.
There's a reason many consumers of the Detroit media believe in the existence of a so-called "Blue Wall." Stories like this are proof positive of a conspicuous, palpable, and distinctive difference in editorial standards and approaches the Detroit media practices and employs between Michigan and Michigan State.
So, since the Free Press has such an insatiable appetite for intrepid reporting, I've put together a list of five things that would actually be worth the Detroit media looking into and scrutinizing. You know, unlike a couple of MSU football donors' tax-deduction receipts from half a year ago.
5 Things The Detroit Media Should Look Into Instead Of MSU Athletics Donations
The Detroit Free Press is suing Michigan State University for records pertaining to donations from two billionaire alumni that helped fund Mel Tucker's 10-year, $95 million contract extension. It's peculiar that the Detroit media has such dogged interest in menial and old news at Michigan State after displaying a distinctly different appetite for coverage of the Robert Anderson scandal at Michigan.
Regardless, it appears that the Detroit media is eager to wield its investigative power to hold public institutions and figures to account. With that in mind, we've come up with a few things that would actually merit their attention, effort, and resources, unlike beating down the door for MSU's tax-deduction receipts.