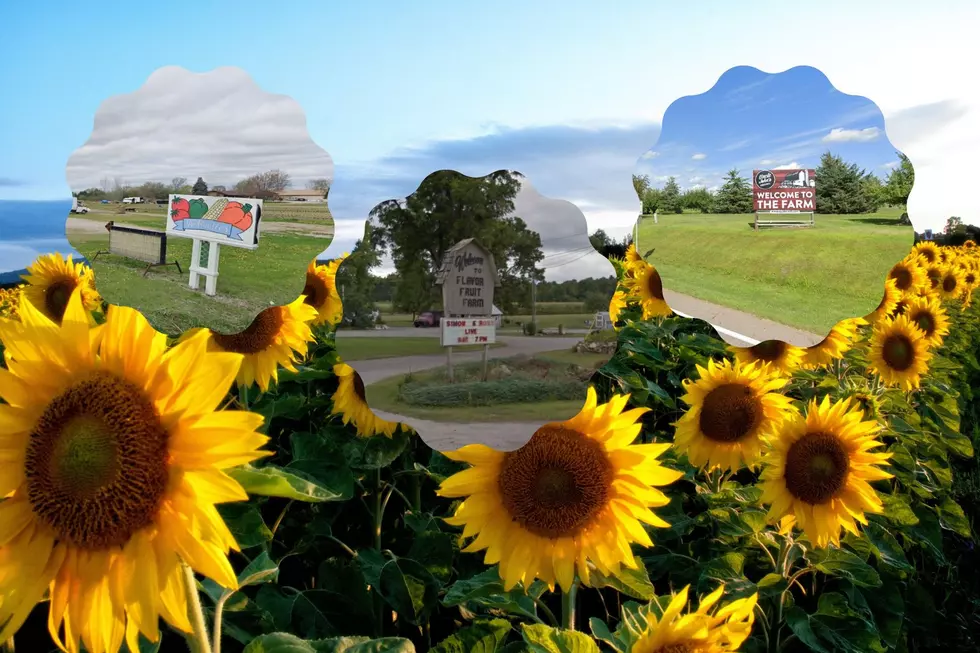 Where to Find the Best U-Pick Sunflower Farms Across Michigan
Photos courtesy of Canva and Google Streetview
We've talked about u-pick strawberries, cherries, blueberries, and lavender. We've even found out where the best sweet corn is in mid-Michigan. And now that we're coming near the end of summer, we've got to talk about u-pick sunflowers.
It's sunflower season! And what would sunflower season be without the many farms and fields that let you enjoy these gorgeous blossoms up close and personal?
U-Pick Sunflower Farms in Michigan
Many farms across Michigan allow you to come to their fields and walk through the sunflowers, and even take some pictures, but not everyone does u-pick sunflowers.
Whether you want to go on an adventure in your backyard or travel somewhere a bit further, there are plenty of farms in Mid-Michigan, and beyond that do u-pick sunflowers. You can pick them by the stem or create a whole bouquet, and many of these places will provide you with clippers to cut with. Not to mention, many of these locations hold whole Sunflower Festivals, complete with food, drinks, vendors, and more.
Sunflower season typically runs from mid-to-late July through mid-to-late September, so, you've still got plenty of time to check out some gorgeous sunflowers, take all the social media-worthy pictures you want, and pick some blooms to take home for yourself. Do keep in mind that some farms have photo policies, but not to worry, we've linked to all the places in the gallery below. Take a look through the gallery and find out where you'd like to go for u-pick sunflowers.
Where to Find Fantastic U-Pick Sunflower Farms Across Michigan
When people think of "u-pick" farms, they tend to think of strawberries, blueberries cherries, and other fruits. But don't forget, there are pick-your-own flower farms across Michigan as well. We told you where you could find pick your own lavender farms at the start of the lavender season. Now, it's sunflower season! If you'd like to pick your own sunflowers, or at least take some Instagram-worthy pictures, here's where you can find some wonderful sunflower farms across Michigan.
Check Out These Fantastic Michigan Farms for U-Pick Blueberries
Michigan has plenty of delicious fruits and flowers to offer, and they all have their seasons. Strawberry season has come and gone. Cherry and lavender season is here, and so is blueberry season! If you want to take part in u-pick blueberries, these fantastic Michigan farms are the places to go. Check out the list below to see where you can find the farms and see when they offer u-pick blueberries.
The Best You-Pick Cherry Farms Across Michigan
Now that Michigan's really getting into summer, it's the perfect season for cherry picking.
Whether you want to stay around town in the mid-Michigan area, or perhaps make a day of it and travel someplace new and check out the Michigan town that's literally famous for its cherry festival; Traverse City, there are plenty of great you-pick cherry places across the state. Check out where you can pick your own cherries across Michigan.