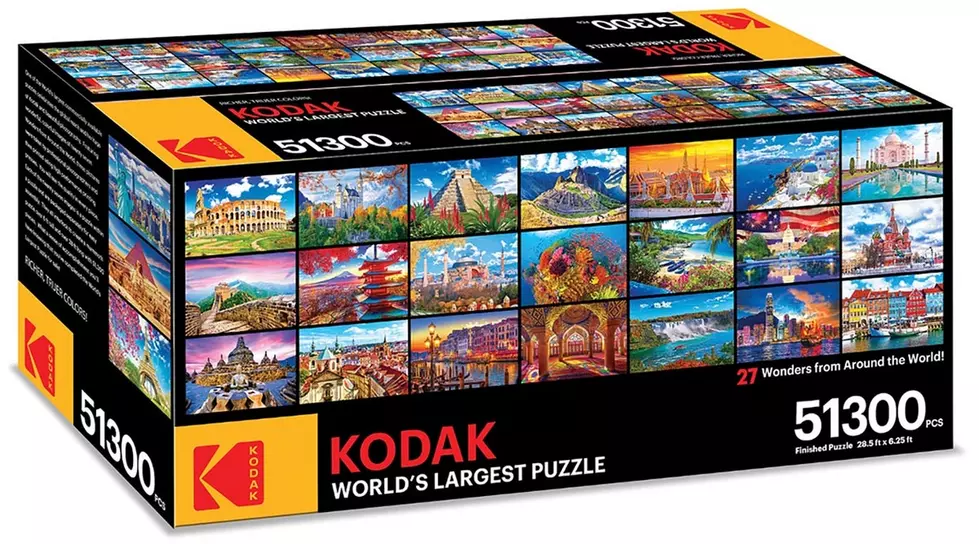 Quarantined? Kodak Just Made A HUGE 51,300 Piece Jigsaw Puzzle – You In?
Credit: Serious Puzzles
So you fancy yourself a JIGSAW PUZZLE MASTER do ya?
A lot of folks have been biding their time in quarantine by taking up new hobbies and games with their significant others and kids.
And a lot of people have been breaking out the jigsaw puzzles.
It's a great way to kill some time. A problem shared is a problem cut in half, so it's definitely more fun when there are more folks involved. A perfect couple task to take on. But NEVER EVER make the mistake of finishing the puzzle you two started without the other person.
And you thought watching your favorite show without them was bad.
Enter your number to get our free mobile app
With this latest outing from Kodak, you're gonna need your partner, the kids, and anyone else you're quarantined with.
Plus you've got lots of time to do this. How long does it take to complete a 1,000 piece jigsaw puzzle anyway?
On average, you could expect for it to take anywhere between 3 to 10 hours, depending on the type of the puzzle, among other factors. (Bucket List Journey)
How about a 51,300 piece jigsaw puzzle?
As stated previously, the puzzle consists of a whopping 51,300 pieces, making it the largest jigsaw in the world to date. It measures 6.25 feet (1.9 meters) in height and 28.5 feet (8.6 meters) in length, weighing in at around 40 pounds (18.5 kilograms). (Bored Panda)

 
It's going to take you a while to finish. It's going to take up a lot of space. And it's going to hit you pretty hard in the pocketbook too. To the tune of $500.
If you can find it online, and it seems to be selling out everywhere, grab your wallet and get one. By the time you're done with it, we should be pretty much done with this whole quarantine thing. And probably well into next year.
MORE: Lansing Takeout Faves While You're Chillin' at Home