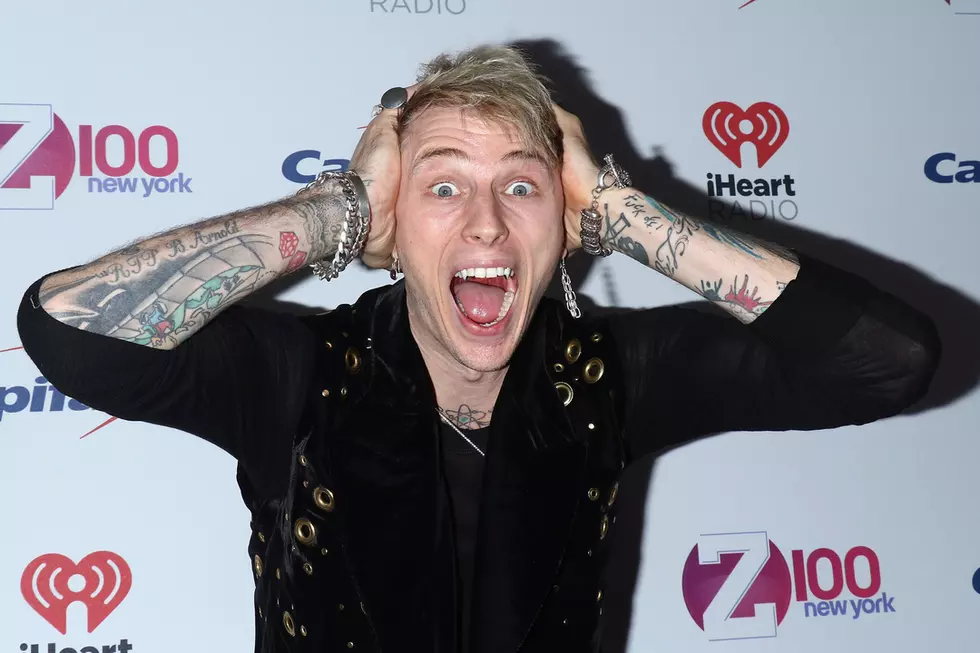 Machine Gun Kelly's Security Accused of Beating Up Actor Who Called Rapper Out for Eminem Diss
Jim Spellman, WireImage
Machine Gun Kelly has been a hot topic over the last week or so due to his back and forth with Eminem. Now he's making the headlines again for reportedly siccing his bodyguards on an actor who was critical of his Shady diss.
The incident happened in Atlanta on Friday night (Sept. 14), reports TMZ, and some of it was caught on camera. In the video, Ozark actor, Gabriel "G-Rod" Rodriguez approaches MGK, who appears to be sitting at the bar talking to a woman. Focusing his camera on the rapper, Rodriguez says, "I'm gonna say it because it has to be said, you're a pussy for going for family," apparently referring to Kelly bringing up Em's daughter Hailie.
The Cleveland rapper appears to push the actor away saying, "Get the fuck out my face, bruh." Shortly afterward, the video ends. According to Rodriguez, he was booted from the bar for the disturbance. But, a couple hours later, Rodriguez claims he was walking to a nearby Hampton Inn when he saw MGK and his crew, leading to a verbal altercation. Cops intervened and quelled the situation, but it ended up carrying on into the lobby of the Inn, where the actor claims he was jumped by at least five members of MGK's security detail. The beating left the actor with multiple facial bruises. Authorities say the beatdown was caught on camera.
Rodriguez plans to file a lawsuit against the rapper, but says he will drop the charges if Kelly will agree to fight him one-on-one. "I will drop the lawsuit if we both sign waivers and meet in an octagon and go man-to-man without goons or weapons," the actor said in a follow-up video.
See footage related to the incident below.
See Hip-Hop Fans Name The Most Disrespectful Diss Track of All Time