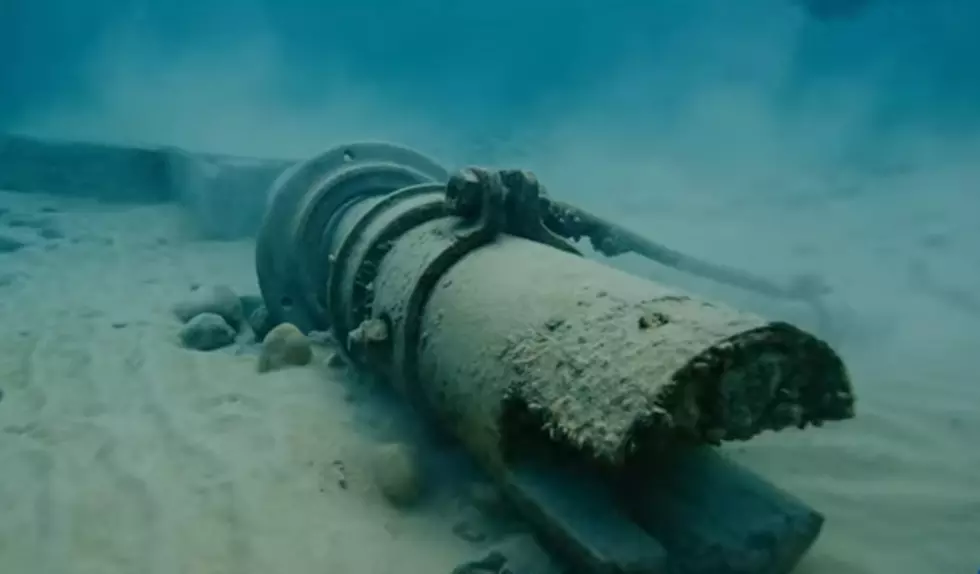 HISTORIC MICHIGAN: Visit the Wreck of the Joseph S. Fay
Screenshot courtesy of NOAA Sanctuaries, youtube
Of the many, many shipwrecks that have occurred in the Great Lakes, the Joseph S. Fay wreck is one of the most accessible. From the air, you can clearly see the ship lying 17 feet deep along the bottom of Lake Huron in two huge sections. On the shore, there's a large chunk of the starboard that washed up and has been sitting there for over 100 years.
Both the underwater & washed up sections of the wreck are right there at 40 Mile Point Lighthouse, seven miles north of Rogers City in the Thunder Bay National Marine Sanctuary.
The Joseph S. Fay was built in 1871 in Cleveland, Ohio and was used to transport iron ore. On October 19, 1905 the Fay was on it's way to Ohio with a load of ore. The weather was violent, provoking the captain to move closer to shore, but the heavy winds and huge waves pushed the Fay closer to the shoreline. The ship's consort schooner, the Rhodes, was roped to the Fay and was being forced in another direction. The forces worked opposite each other and the schooner broke loose, ripping a hunk of the Fay's stern right off.
Sinking, the Fay made it close to the 40 Mile Point Lighthouse where she hit a sandbar which ripped out even more: deck, captain's room, mate's room and wheelhouse.
Of the approximate dozen people on board, three lost their lives. According to the log that was kept by the lighthouse keeper, "At 8:30 p.m. last night the steamer, J. S. Fay, came ashore here in a sinking condition. She soon broke up. Most of the crew came ashore on the Pilot House. Three men swam ashore, the mate was drowned." About a month and a half later, another entry was made into the log: "The assistant found a dead man on the beach about 1 mile up. We think it is the mate of the Fay."
This is truly an awesome place to stop on your next Michigan roadtrip. Many historical artifacts and relics from the wreck can be see at the 40 Mile Point Light Keeper's House and more at the Great Lakes Maritime Heritage Center in Alpena.
Check out the photos below of the wreck and location!

MORE SHIPWRECKS:
Inside the Shipwreck Daniel J. Morrell
The Shipwreck 'Atlanta'
Wreck of the Rising Sun