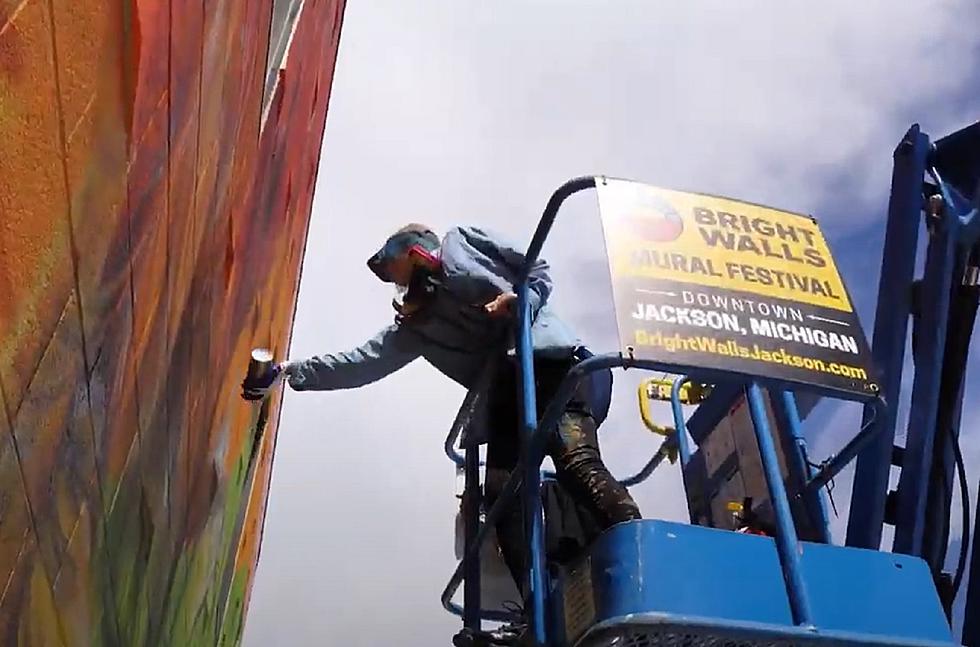 Jackson Replaces 'Bright Walls' Festival With 'Bright Spots' Event
Bright Walls via YouTube
This year was supposed to be the finale year for Jackson's artsy-est event but when COVID-19 forced a change of plans, Bright Walls got even more creative.
Back in January we told you all about how this year's festival, scheduled for September 10th through the 15th, Bright Walls would be celebrating its third and final year.
However, what feels like forever ago, then was pre-COVID and plans have since changed.
In June, according to MLive, the organizers of Bright Walls postponed the popular festival to 2021.
Of course, it was out of the interest of safety, but it was also due to limited travel and the worry artists from around the world would not be able to make it during the original dates for the festival.
Since I moved back to Jackson since they've done the festival two years in a row (2018 and 2019) I have been consistently amazed by the murals that decorate downtown.
It's honestly incredible and brings such a fun, fresh vibe to downtown Jackson and I am excited to see more and more go up!
Everywhere you turn downtown, there is a new mural I had not seen before and the fact they are adding more is exciting which is why this year they still managed to find a way to make at least something happen.
In true "show must (kind of) go on" artist fashion, festival organizers are having three artists, from the U.S. to avoid travel restrictions, to come create "bright spots" murals in Jackson.
"This year, it'll be a little bit more spread out and go a little bit further outside of the boundaries," Clay McAndrews, Bright Walls' executive director said. "People can still walk to the murals but it might be a little bit of a hike. It's showing some love for the areas of town that might have otherwise not gotten a mural."
MLive said the names of each artist and locations will be announced each Monday leading into September before "bright spots" happens September 6th through the 13th, though McAndrews gave us all a hint as to where these spots will be...on buildings housing Jackson nonprofits!
It is such a great feeling to know my home town is working to make things a bit more "bright" in what has been a pretty dark and bleak time.
Looking for more art? Check out Ann Arbor's graffiti alley!
SEE MORE: Take a Trip Down Graffiti Alley in Ann Arbor
Enter your number to get our free mobile app