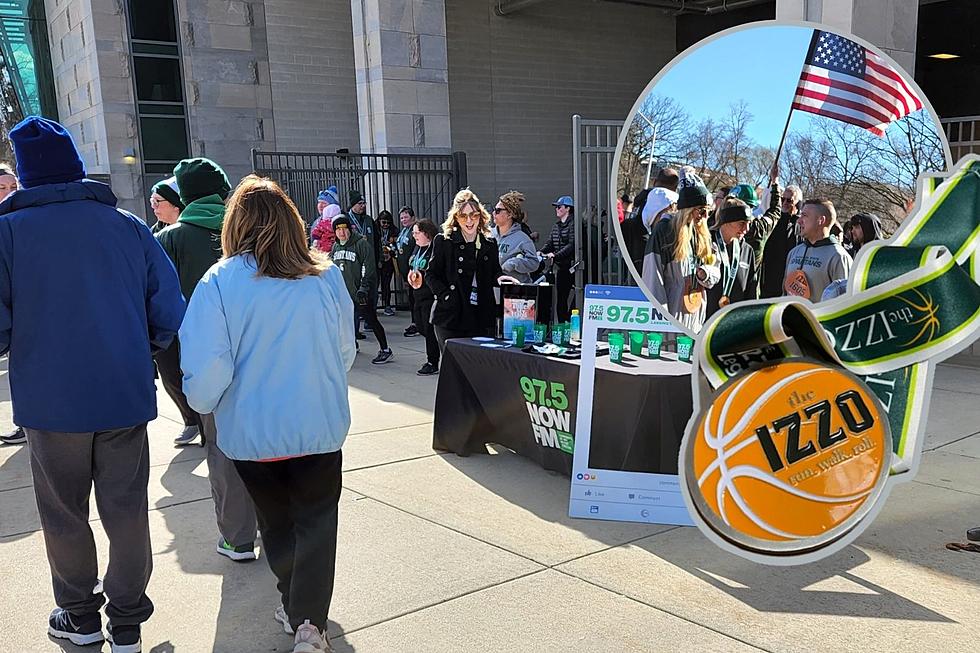 See How The Best Energy Surrounded the Izzo Legacy 5K
Nathan Vandenburg TSM / Liz Walterhouse TSM Lansing
As someone who is absolutely not a runner in any way, shape or form, when I was told I would be attending the Izzo Legacy Run/Walk/Roll at Michigan State University as a personality for the radio station, I was a bit nervous. It was not that I didn't want to be there, it was more of a "how the heck am I going to relate to people who are athletic enough to run a 5K!?"
However, I could not have been more wrong in my anxiousness as there was such a positive energy surrounding the day from the moment we pulled onto campus.
What Is the Izzo Legacy Walk/Run/Roll?
Per the Izzo Legacy Family Fund website, it all started in 2019 when the Izzo family teamed up with Playmakers in Okemos "to host an annual run/walk experience on the campus of Michigan State University."
The main focus of the event is not only to honor the impact Coach Tom Izzo has had on the Spartan community by emphasizing "fitness, fun, family, charity, and Spartan Spirit" but to also:
"Encourage inclusivity by coordinating with MSU Adaptive Sports to accommodate participants of all abilities."
"Provide the Spartan community with a unique family- friendly event that encourages healthy living."
"Provide Spartan alumni and fans an annual opportunity to return to campus, attend the spring football game, additional non-revenue athletic events, and participate in the run/walk/roll."
"Establish a sustainable annual event that gives back to the Greater Lansing and Michigan State communities."
An Obvious Commitment to the Michigan State Spartans' Community
As we arrived and got setting up, my partner for the day, Nathan, and I were shivering and trying to find a spot to set up that was getting at least a little sun. I could not imagine what the runners wearing shorts, tanks, tees, etc. must have been feeling.
Then I remembered, they trained for this.
After we were all ready to go, we started to get into the groove as runners/walkers/etc. were starting to cross the finish line.
We made sure to have our station's cups filled with some sunglasses and granola bars as we figured folks probably worked up an appetite:
Suddenly, before we knew it, there were thousands of people moving about, congratulating each other, all decked out in their green and white and excitedly stopping by our table, grabbing some goodies, before making their way into Spartan Stadium for a victory lap and to meet the man himself, Tom Izzo.
The Izzo Legacy Run/Walk/Roll is About More Than "Just" a 5K
As we started having more and more people stop by, we were spinning the prize wheel, handing out station swag and could feel the positivity radiating from every corner of Spartan Stadium.
People were excited to have finished with their best times yet, people who were excited to finish at all and people who were just happy to be there cheering on their loved ones. Everywhere we turned there were people celebrating victories of all sizes.
We started dancing to the music, even the MSU police nearby were enjoying the tunes, and once we actually ran out of "swag" to give away, we got people registered for concert tickets and took advantage of a few photo-ops:
Of course, as "radio people" we know how to entertain and be entertained in practically any situation but this event you couldn't help but be moved by all the wonderful moments we found ourselves surrounded by.
Take a look at even more photos of what the wonderful community experience the Izzo Legacy Walk/Run/Roll truly was:
The 2022 Izzo Legacy 5K Race
Thank you to every single person who not only helped put this event together, invited us to come along and be included, but to every person who ran, walked, rolled, rallied and made the day such an epicenter of positivity right here in Mid-Michigan.
30 famous people you might not know were college athletes
Stacker
dug deep to find 30 celebrities who were previously college athletes. There are musicians, politicians, actors, writers, and reality TV stars. For some, an athletic career was a real, promising possibility that ultimately faded away due to injury or an alternate calling. Others scrapped their way onto a team and simply played for fun and the love of the sport. Read on to find out if your favorite actor, singer, or politician once sported a university jersey.