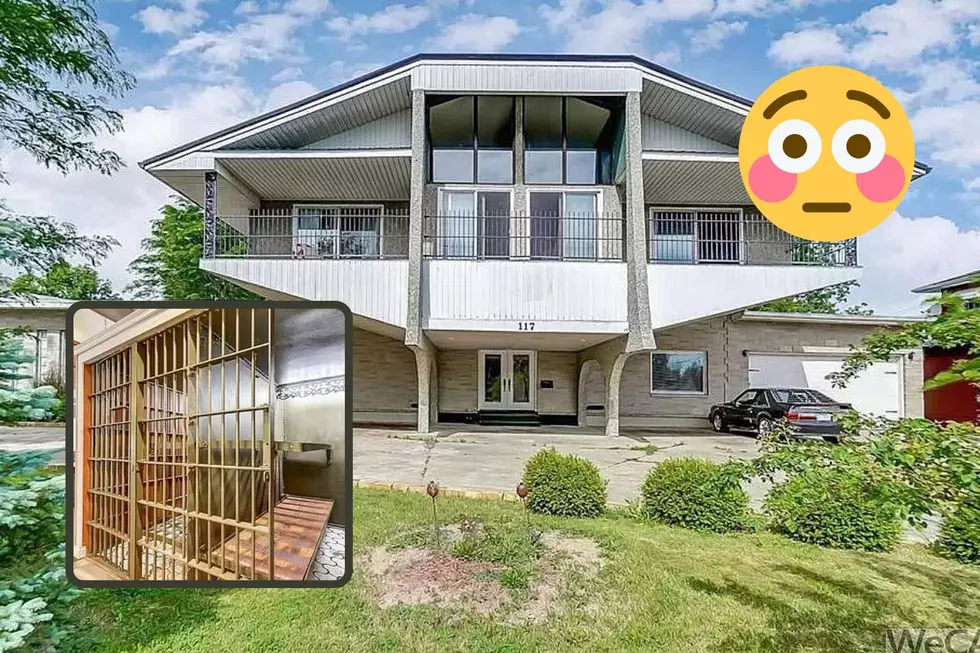 This Ohio House For Sale Has a Jail Cell Inside
Photos courtesy of WCAR OH via Zillow
The housing market is pretty bonkers at the moment. Apparently, the houses themselves are as well.
Crazy Houses For Sale
One of my favorite things to do is check out housing listings. There's something so fun and satisfying about looking into different homes and seeing how they're set up, how people decorate, and the potential of what the house could look like if I lived there.
While doing my social media scrolling, I came across one of the wildest houses I've ever seen. And you'll see exactly why in a moment...
Zillow Gone Wild has the ability to find the craziest and most extraordinary houses around, including this one in Ohio.
Welcome to 117 N Brandon Avenue in Celina, Ohio. It's a four-bedroom, 5-bathroom home listed on Zillow for $275,000.
It has a lot of fun amenities that make it perfect for entertaining, like an indoor pool, sauna, and full bar area. But that's not the most surprising part of this home; the indoor jail is.
Ohio House with Indoor Jail;
Yes, you read that part right. There's a jail cell right there in the house, in case someone gets a little too rowdy in the bar area. Or perhaps the worst version of time out ever.
The house listing doesn't clarify the reason behind the jail cell, like perhaps the home was a former jail or court house and it needed a place to hold people. Or maybe the former owner just like antique-like stuff and the items in the cell were actually used in a jail cell at one time or another.
Regardless of the reasoning behind it, you've got to check out the pictures for yourself. See them in the gallery below.
This Ohio House For Sale Has a Jail Cell Inside
We've all seen crazy houses for sale on Zillow, but this Ohio listing might take the cake. Don't get too rowdy at any parties they throw, because you might end up in jail. And they won't need to call the cops. They'll just throw you into the jail cell in the house. But hey, there's also an indoor pool, game room, and sauna. Check out the pics for yourself below.
Midwest House For Sale That's Completely Underground
The housing market is crazy right now. Crazy enough to buy a house that's literally just a basement? I came across this listing on Zillow Gone Wild. It's a house that's literally just a basement and is completely underground. The house is pretty cheap, only $35,000. Would you live in a basement-only house? At least it has nowhere to go but up. Check out this house that's for sale that's completely underground in the pictures below.
20 Unique Northern Michigan Airbnbs Perfect for a Getaway
If you're in need of a little rest and relaxation, look no further than the great state of Michigan! Northern Michigan is the perfect place for a vacation. Check out these 20 stunning & unique Airbnbs and start packing your bags for a getaway.