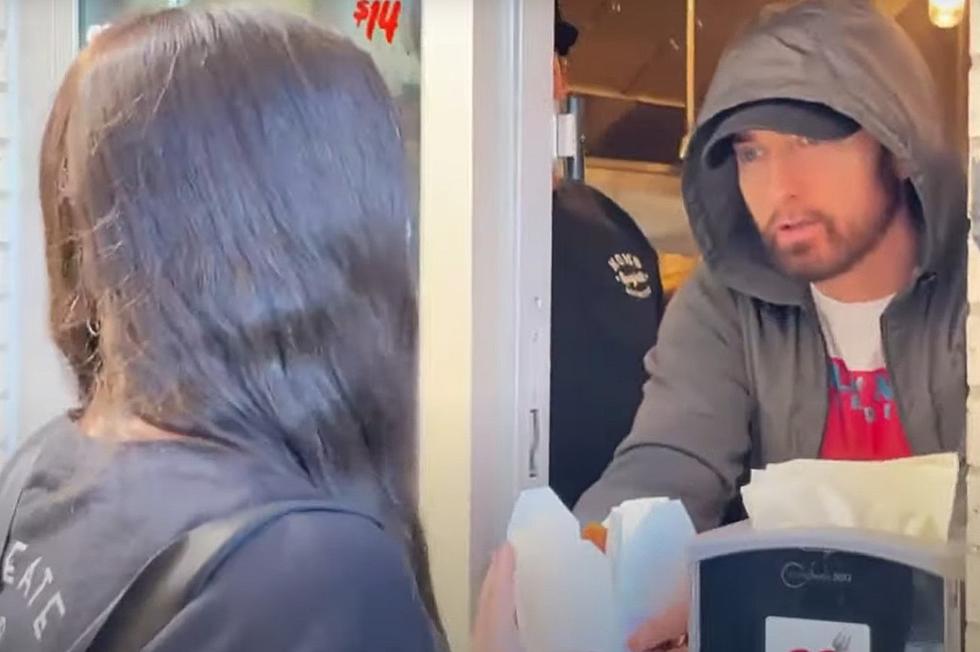 Eminem Served Up Mom's Spaghetti To Lucky Customers In Detroit
Southpawer Official via YouTube
Eminem celebrated the grand opening of his new Detroit restaurant by working the drive thru at Mom's Spaghetti.
Eminem announced earlier this month that he was opening a permanent location of Mom's Spaghetti in Detroit. This is after the huge success of the Mom's Spaghetti pop up locations that he had done in the last couple of years. Mom's Spaghetti is a walk up style restaurant, and customers can grab Eminem merch upstairs at 'The Trailer'.
The Trailer is a small shop above Mom's Spaghetti that will feature a rotating collection of Eminem memorabilia, along with Mom's Spaghetti merch. Both stores are located right on Woodward in Downtown Detroit.
As you can imagine, fans were thrilled to see Eminem working the window of his new restaurant.
Fans came from all over the country to get a taste of Mom's Spaghetti, so it should be no surprise that the line loooooooonnnnnnnng.
After Eminem served the first 10 or so customers he and his entourage jumped into their cars and drove off. Em declined to talk to the media while at the event, and honestly I think everyone was shocked that he was actually there. Eminem doesn't make a lot of public appearances, so it was really cool that he took so much time to talk with fans while working the window.
If you're planning on making a trip down to Mom's Spaghetti, be prepared to wait. Even though Em most likely won't be working the window, fans are still anxious to get there. The menu is simple, serving three things: Mom's Spaghetti ($9), Mom's Spaghetti with meatballs ($12) and a S'ghetti Sandwich ($11) along with water and pop. For a small additional charge, you can also get vegan meatballs.
MORE: The 10 Best Eminem Songs of All Time
See 50 Facts About Eminem