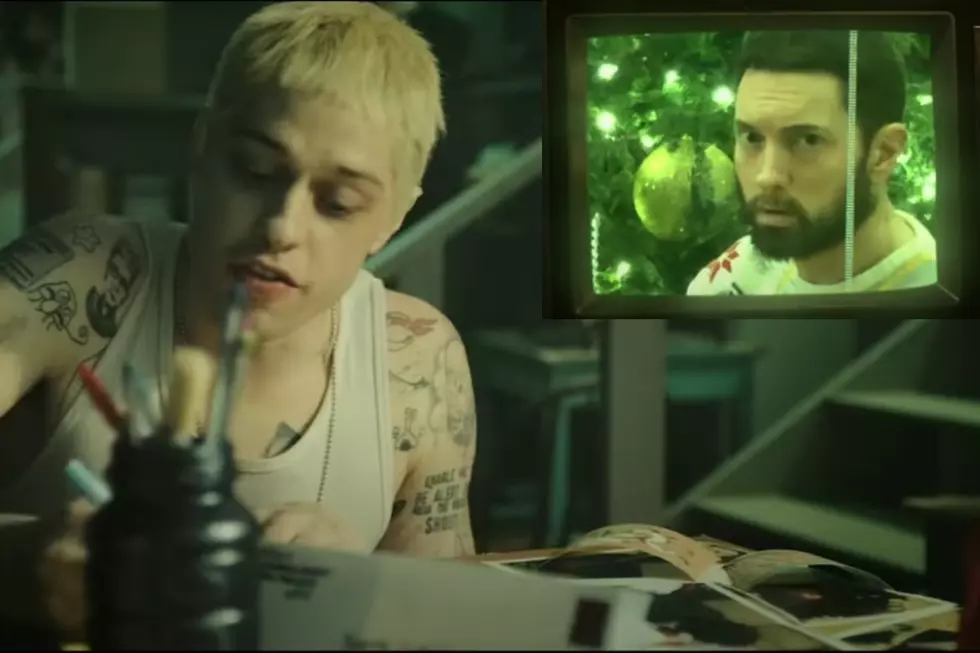 Eminem Makes 'SNL' Cameo in Pete Davidson's 'Stan' Christmas Spoof [VIDEO]
Saturday Night Live via YouTube
Enter your number to get our free mobile app
Eminem made a surprise appearance on 'Saturday Night Live' as Pete Davidson offered up a Christmas parody of the Michigan rapper's video for the song 'Stan'.
The clip -- which was one of the bright spots in the episode from December 5 -- features Davidson, donning a white tank top and bleached hair like Eminem's obsessed fan, portraying Stu, a devoted fan of Santa Claus. In the Stan-themed clip, Stu wrote numerous letters to Santa requesting this year's elusive gift, the PlayStation 5.
Much like the song and music video from 2000, the letters from Davidson's character become increasingly impatient, as no response from the North Pole is ever received.
"I guess even the great St. Nick can't track down a PS5," Davidson sings as 'Stu.' "Hey, Santa, I drank a fifth of Eggnog, you dare me to drive? You ruined Christmas, I wish I'd never told you what was on my wish list."
The song features SNL star Kate McKinnon playing Stu's mom, a nod to the original song which sampled Dido's song 'Thank You'.
"But he can't buy it himself because he lost his job because he was stealing from his boss. I'd be worried, he's a scary guy," McKinnon's character sings.
SNL's Bowen Yang appears as Elton John in the clip, empathizing with Stu.
"This year Christmas will be bad, 'cuz Santa sucks and Stu is sad," Elton sings. "He's already you really nicely, and now he's really pissed off."
Eminem appears at the end of the clip, opening a present addressed to his alter ego Slim Shady.
"That's crazy. A PS5? I didn't even ask for this!" Eminem says as he opens the figt. "I guess Shady must have been a good boy this year. Sorry, Stu. You f---ed up."

 
MORE: The 10 Best Eminem Songs of All Time