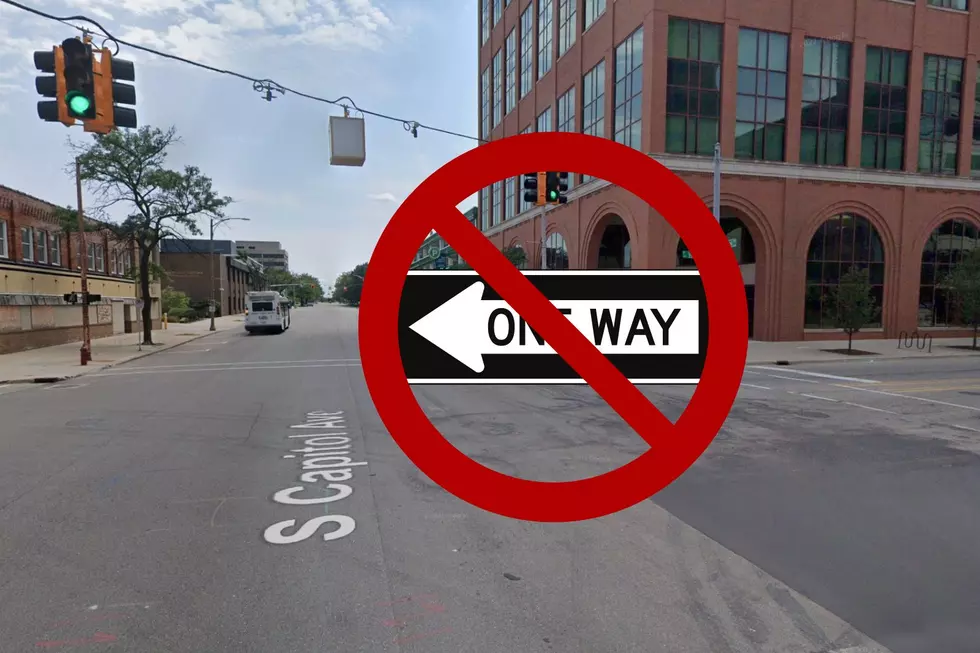 These Streets In Downtown Lansing Will Be Affected By The New Two-Way Traffic
Courtesy of Google Streetview and Canva
Something that's been in talks since 1999, that's 23 years ago, will finally take place this weekend.
And that "thing" is that Downtown Lansing is converting some of its one-way streets to two-way streets.
Downtown Lansing Will Begin Two-Way Traffic This Weekend
You've probably noticed recently that there have been some new traffic lights installed and bagged for the time being. They were installed as preparation for this new change.
This weekend will start with just two lanes being converted to two-way traffic: Grand Avenue and Capitol Avenue between Oakland Avenue and Washtenaw Street. However, we can't drive both ways just yet as crews still have a bit more work to complete before the two-way traffic can begin. They're going to take off the current lane paint and add new paint to indicate the new directions that will be traveled. They'll also be working on some new signal and sign changes, according to Public Service Director Andy Kilpatrick. 
The crews will start work on Saturday, and barring any crazy weather complications, are estimated to complete work by Saturday night or Sunday morning, meaning drivers and pedestrians would need to watch out for two-way traffic as soon as Sunday afternoon.
This is just the beginning of the work to covert some of the current one-way roads in Downtown Lansing. This first conversion is part of a larger project to covert other streets (Pine, Walnut, Ottawa, and Allegan streets) by sometime next year.
If you've ever dealt with people driving the wrong way down a one-way road before (I know I sure have, particularly on Saginaw and Grand River near 127), perhaps that won't be an issue anymore. However, this could present a whole new issue, which is that people are used to going one-way on those streets, and now they have to get used to two-way traffic. And not just drivers, but pedestrians, too. All I can say is pay attention to the new signage, as that will definitely help you out, and look both ways before you do anything.
The Most Dangerous Intersections in Lansing
These are the most dangerous intersections in Lansing based on the number of accidents.
The Michigan Communities With The Worst Commutes
Do you think that your commute is bad? Yeah, wait till you see these Michigan counties that have it far worse than you do. The U.S. Census Bureau gathered this information. The counties listed below, are based on the average commute time per community.
10 Michigan Cities Ranked by Worst to Best Drivers
Are you a good driver? Maybe your driving skills helped propel your city to the list of the 10 cities in Michigan with the best drivers.
The data was crunched by QuoteWizzard.com, using data from about 500,000 insurance quotes and taking into account the highest and lowest rates for things like speeding tickets, car accidents, and DUIs.