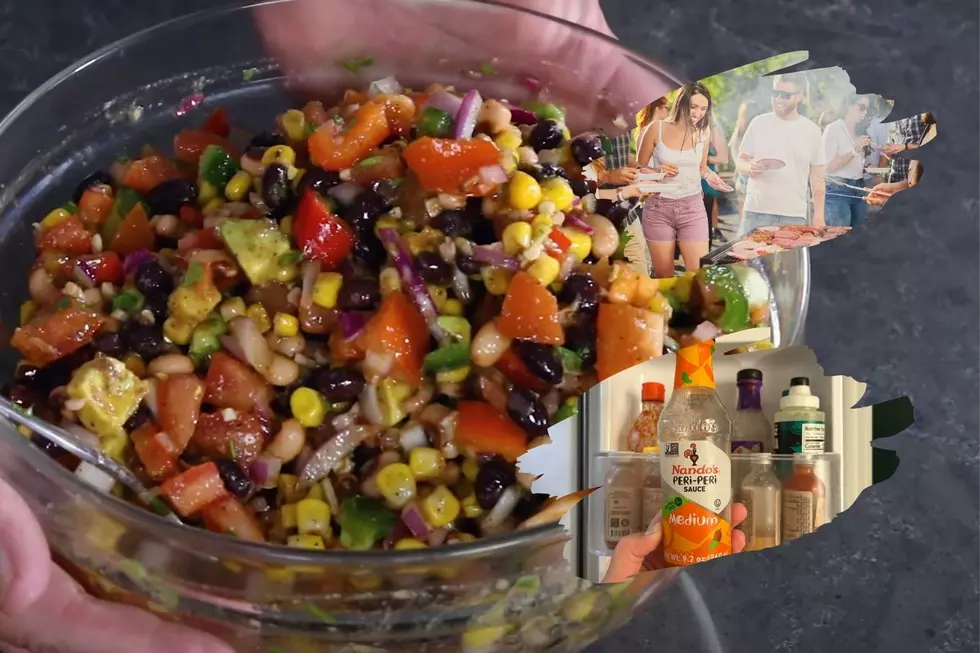 Make THIS Dish If You Want to Be The Star of The BBQ
Photos courtesy of Chili Pepper Madness via YouTube, millann, and Kristen Matthews TSM Lansing
Throughout the year, I'm sure that we'll all be going to lots of events, barbeques, and the like. And in that spirit, I wanted to turn you onto a dish that I've been making for YEARS that is always the highlight of the food line-up...
Cowboy Caviar.
What is Cowboy Caviar?
Some people call it Cowboy Caviar. I've also heard it by its alternative, yet similar, name of Texas Caviar. But in my household, we call it Cowboy Caviar, and I promise you, it's going to be the star of the barbecue.
I've been making, tweaking, and perfecting this recipe for 16 years, and I have it down to what I believe is its best version. And although I know some people like to keep recipes for themselves, I'm all about sharing the love.
I'm going to share with you exactly what goes into this fantastic dish so that you can make it yourself. As I said, it's perfect for barbeques and large gatherings of family and or friends, but it's honestly just as good to make it at home and just eat it throughout the week.
Here's what you'll need:
1 can of black beans
1 can of black-eyed peas (can also be subbed for pinto beans)
1 can of sweet corn (grab a can of mixed white and golden kernels if possible)
1/2 of 1 large red pepper
1/2 of 1 large orange pepper
1/2 of 1 large yellow pepper
1/2 a pint of cherry tomatoes
1/2 of 1 medium red onion
1 jalapeno
1 large avocado
fresh cilantro
3 limes
olive oil
hot sauce (whatever your preferred brand is; I like Nando's Peri-Peri sauce in medium)
seasonings: salt, pepper, cumin, adobo, and chili powder
a bag of your favorite tortilla chips
You're going to drain and rinse the black beans, black-eyed peas, and sweet corn and throw them into a large bowl. And I mean it when I say large; I always forget how big of a batch this makes, plus you'll need to do some stirring and don't want to get it all over the place, so go ahead and grab a bigger bowl than you think you'll need.
Then, get ready to slice and dice. You're going to dice the red, orange, and yellow peppers into small pieces; think about the same size as the beans. The idea is that you want everything to be of a similar size so that you can get a little bit of everything on each chip. The next step is to quarter the cherry tomatoes. Honestly, you could just grab a giant tomato and dice it up really small, but I love the sweetness of cherry tomatoes.
Then you're going to finely dice the red onion and jalapeno. Those can be really overwhelming if someone gets a big bite of it, so that's why you want to finely dice it. As far as the jalapeno seeds, I leave them in, but you could just as easily remove them if you don't want things as spicy.
Then you're going to run your knife through some cilantro. I know, I know, not everyone likes cilantro...So if that's you, you can easily sub out parsley or green onions. You don't need a ton of cilantro, maybe 2 - 3 tablespoons.
Next, you're going to mix up your sauce. You need 1/3 cup of olive oil, 1/3 cup of fresh lime juice, 3 tablespoons of your preferred hot sauce, and seasonings to your liking. Salt, pepper, and cumin are a must, adobo and chili powder can be sprinkled in at your liking. Once you give the sauce a nice whisk, throw the cilantro into the sauce mixture and pour that whole thing into your giant bowls of beans and veggies.
Once everything is in the bowl, give it a good mix. Now, you can add your diced avocado. Don't worry, I didn't forget it. I usually leave it until the end so it doesn't get all mushy. Then, serve with your favorite tortilla chips.
And there you have it; the most delicious dish you could possibly bring to pass. And this isn't just for the Fourth of July or summertime, I make it for birthdays, parties, Superbowl parties (as pictured below), and other events all year long. I promise it's a winner. And what's great is that you can edit and personalize it to your liking. Way back in the day, I used to use zesty Italian dressing, which was fine and works great if you need to save some time. However, I found this sauce recipe to be much more elevated.
Do you have a dish that's a must-have when it comes to summer barbeques or Midwestern gatherings in general? If so, I would love to hear from you! Send me a message with the free station app. In the meantime, check out the gallery below for some traditional Midwestern "salads" that aren't really salads. But you can bet your bottom dollar that you'll see at least one of them at any Midwest gathering you go to.
12 'Salads' That You'll Find at a Midwestern Get-Together [LIST]
Whether it's a bbq, family reunion, or graduation party, there are some staple foods that Midwesterners usually have when they gather together.
Most of those foods have salad in the name...and some of them even have lettuce!
11 Insanely Awesome Hand-Dipped Ice Cream Locations
Enjoying an ice cream cone during summer in Michigan is tradition, but finding a good hand-dipped ice cream stand can be a challenge. Check out these Lansing-area hand-dipped ice cream locations.
Best Breakfast Burritos in the Lansing Area
I feel that not only is breakfast "the most important meal of the day", it's also the best meal of the day. That's why there's such thing as brinner (breakfast for dinner) and diners/restaurants that offer breakfast items 24/7. The epitome of delicious and portable breakfast options is a breakfast burrito. If you want a hearty breakfast that's filling and perfect for on-the-go eating, a breakfast burrito is the way to go. We've put together a stuffed list, filled with the best breakfast burritos in the Lansing area, and here's what we've come up with. Check out the mouth-watering gallery below.