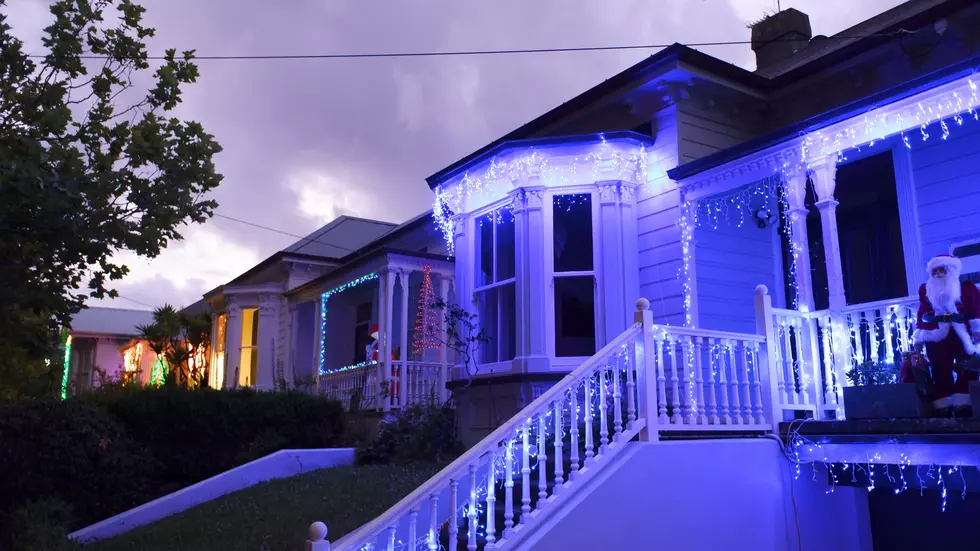 5 Tips To Better Outdoor Lighting This Holiday Season
Cool blue lights
A lot of you will be taking advantage of the temporary warmer temperatures here in Michigan to seize the opportunity and get ahead start on hanging your Christmas lights. Taking advantage of the warmer temperatures allows you to take your time and make sure everything from properly hanging your lights to making sure your connections are above ground.
So assuming you're not one of those who procrastinate and end up hurriedly hanging your lights to keep from freezing, here are some tips to getting the most from your outdoor light display' this year.
5 Tips To Better Outdoor Lighting:
5) Use a good quality ladder. As common sense as this sounds, every year many Americans are injured from outdoor falls that result from improper use or poor quality ladders. Always make sure you have more ladder than what you need and that its properly grounded to be safe.
4) Secure your lights with the proper holders (insulated are preferred) and avoid nails, tacks and other improper ways to hang your lights.
3) Watch for trees that come into contact with power lines and avoid hanging strands of lights over power lines. You don't want a disaster should a super strong wind blow the light over the power lines.
2) Use the proper outlet. GFCI (ground fault circuit interrupter) are best as they can shut the circuit down if there is overcurrent.
1) Always use waterproof lights. To verify, look for the tag to have a mark from the underwriters lab (UL) on the strands. Also, for best look from a distance, use C7 or C9 bulbs as they are cone shaped and highly visible from far away.
For design ideas, I always look into outdoor lighting specialty sites or even Pinterest and Happy Holidays!
Enter your number to get our free mobile app
UP NEXT: 12 Things Michiganders Need to Make it Through the Winter