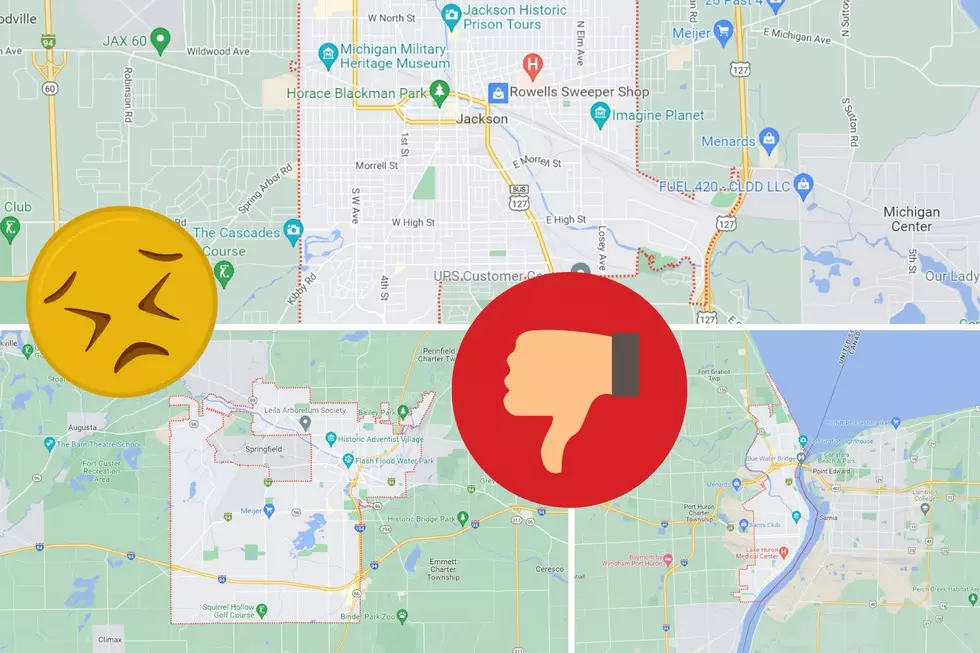 10 Michigan Small Cities are Some of the Worst in America
Courtesy of Google Maps and Canva
"City life" isn't for everyone. Some people like the quiet and quaintness of small towns, and rural living. At least, that's what WalletHub discovered.
According to WalletHub, 46% of Americans would rather live in the suburbs. For urban areas, only 19% of Americans would prefer living there. While on the other hand, a whopping 35% of Americans would prefer to live in rural communities.
Small-town Living
Small-town life has its advantages, like having a lot more space to enjoy; everyone seems to know one another; developing those tight bonds with your neighbors. However, the proverbial dirt road isn't always paved with gold. With the whole town knowing each other, it could feel like everyone's in your business. There are also fewer shopping and dining options. But, you could get the best of both worlds, and perhaps that's living in a city with a small population. You get to enjoy better affordability when it comes to the cost of living and typically more options.
As WalletHub says, "no two small cities are made equal"., that's why they looked at the data to determine which American small cities were the best, and sadly, which ones were the worst.
Worst Small Cities in America
WalletHub looked at over 1,300 small cities across America with populations ranging from 25,000 to 100,000. Additionally, they compared "43 key indicators of livability. They range from housing costs to school-system quality to restaurants per capita" and more.
Here, we're going to take a look at the Michigan small cities that came in at the bottom of the list. These 10 Michigan small cities fall in the 20th percentile for livability or lower. So if you're thinking about relocating, perhaps consider a different Michigan city.
Port Huron, MI
Starting with the best of the worst, it's Port Huron. Port Huron comes in at the 20th percentile. They don't do too bad when it comes to affordability, but they rank pretty low when it comes to education and health.
Muskegon, MI
Muskegon comes in at the 17th percentile. The overall quality of life ranks pretty high, but the education and health score is abysmal.
Battle Creek, MI
Battle Creek ranks in the 16th percentile. The overall quality of life is pretty good, but the economic health score is very low.
Kalamazoo, MI
Kalamazoo comes in at the 15th percentile. It's worst score is from safety. Kalamazoo shares the 15th percentile with the next small city...
Lincoln Park, MI
Lincoln Park's worst scores are quality of life and education & health.
Eastpointe, MI
Eastpointe ranks in the 14th percentile, with its economic health as its worst score.
Burton, MI
Burton comes in at the 12th percentile. It has a pretty excellent affordability score, but its education & health score is super low.
Jackson, MI
Sad to say that the mid-Michigan town of Jackson ranks in the 9th percentile. The overall quality of life ranks pretty high, but its worst score is safety.
Flint, MI
Flint only comes in at the 5th percentile, making it not only one of Michigan's worst small cities but America's worst small cities as well. Economic health as well as education & health are among Flint's worst scores. It's also immediately adjacent to Burton, MI, which also made the list for worst small cities in America.
Pontiac, MI
Pontiac is in the 4th percentile. Pontiac's worst scores are economic health and safety.
Saginaw, MI
And coming in dead last for Michigan is Saginaw. It comes in at the 4th percentile with even worse scores than Pontiac. Saginaw scores terribly in economic health, education & health, and safety.
15 Most Dangerous Cities in Michigan Based on Crime Rates
These are the Michigan cities that have the highest crime rates. Take a look and see if your city made it onto the list.
Michigan's 20 Smallest Cities and Towns
Michigan's population is 10.05 million people. We have many big cities. We also have tiny cities and towns in Michigan. Here are the smallest cities or towns in Michigan.
10 Richest Cities In Michigan 2022