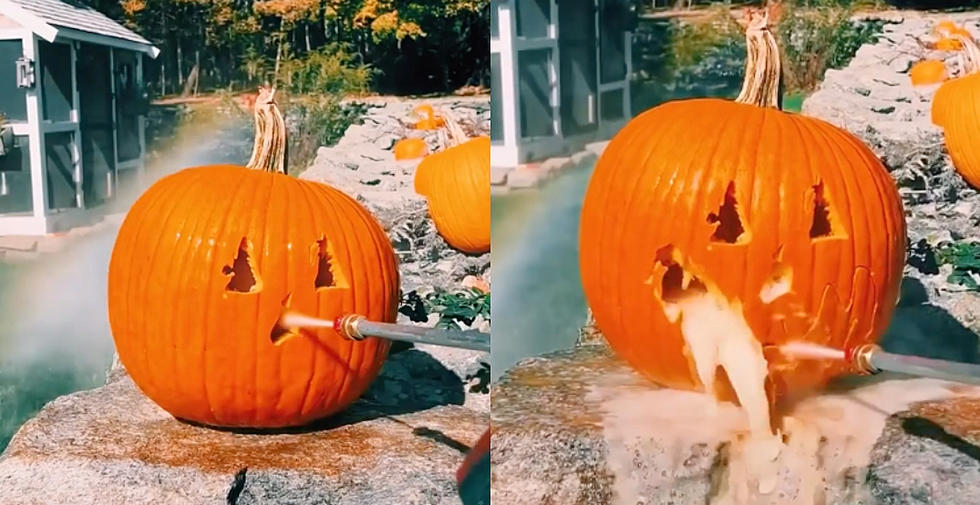 Here's How to Carve a Pumpkin With a Power Sprayer (Video)
KJP IG
Growing up as a kid every October I looked forward to going to a pumpkin patch and grabbing a giant pumpkin to take home and carve. My mom would buy a carving kit and the book that came along with it and I'd pick out what design I wanted to try and carve.
The first thing I would do is carve out the top of the pumpkin, then scoop out the guts and make sure to keep the seeds for baking later. It seemed to take forever to scrap all the orange gunk out until I had a hollow pumpkin.
The next and often the most time-consuming step for me was deciding on what design I wanted. Did I want to do the easy level, the medium level, or the hard level? As much as I wanted to do the hard design, I knew I'd mess it up so I always went with the simper designs such as a bat or a cat.
As I got older I moved away from using the designs and carving kits and just went for the good old Michael Myers kitchen knife freestyle approach. It was faster and did a decent job.
Last Halloween me and my wife Lindsey carved pumpkins. My pumpkin on the left was done with just a kitchen knife and turned out pretty good. Her pumpkin on the right was done with a carving kit and a design from a book. To me, it looks like a ghost with legs.
I thought that was the best way to carve a pumpkin until this week when I stumbled onto A Tik Tok Trend of people using a power washer to carve a pumpkin in 30 seconds.
These videos are so satisfying to watch and the best part is the high-pressure water clears out all the pumpkin guts and seeds so you don't have to scrape them out by hand.
I need to buy a power washer ASAP so I can try this out myself
Michigan Home For Sale Has 'Great Bones'
This home for sale in Muskegon, Michigan is pretty impressive, and as you can tell from the photos, it has 'great bones'.
What You Pass Out On Halloween Says A Lot About You
Halloween Pet Costumes
Vintage Halloween Costumes