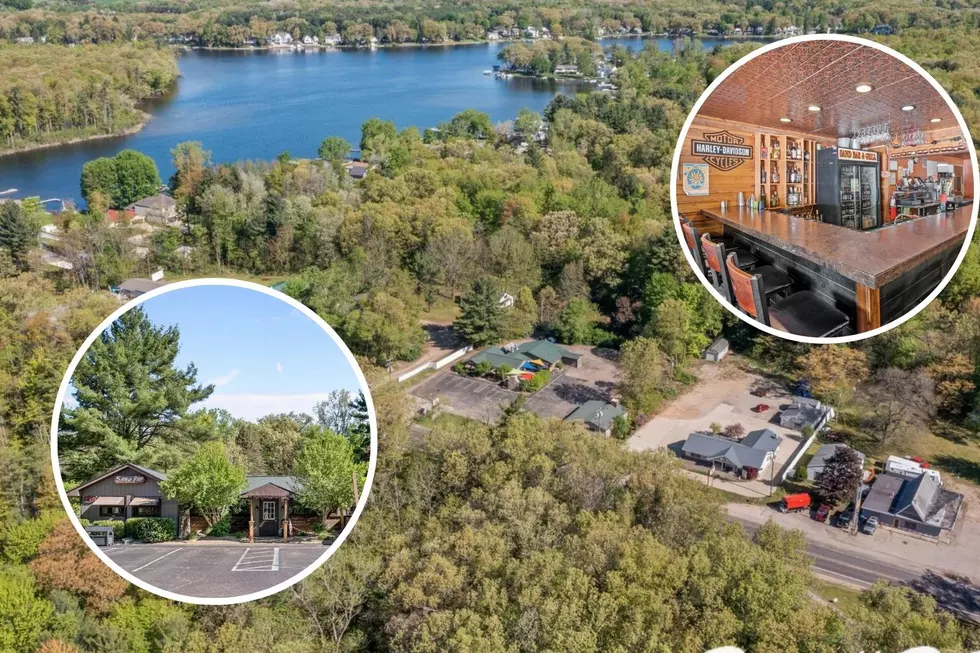 Want to Buy A Bar? Popular Pub in West Michigan Vacation Hot Spot for Sale for $1.6 Million
Darrell DeWard Real Estate
"We should buy a bar!" - Everyone, at some point in their lives.
If you've been bitten by the "we should buy a bar" bug, there's a popular bar and restaurant for sale in Middleville.
Nestled in the Gun Lake/ Yankee Springs area, The Sand Bar & Grill on M-179 has hit the market for $1.6 million.
Check out pictures of the inside and outside in the gallery below!
The Sand Bar & Grill got national attention in 2020 for opening up "Shanty Land" during the pandemic, in which guests were invited bring their own ice shanties to the Barry County bar's parking lot for service.
Owner Kim Campbell told Fox 17 at the time,
When we had to close everything down we noticed that people just started coming out here, having drinks, then it turned into them eating their to-go orders out here. So we thought, how can we make this into a winter lodge-type place, where people can actually get together again and have dinner out, without worrying about breaking the rules or being exposed to something.
Now the 2,792 square foot bar and restaurant is for sale.
Wood TV 8 reports that Dan and Kim Campbell bought the property in 2010 and redeveloped it into Sand Bar & Grill. Their realtor tells Wood TV 8, the Campbells have decided to retire and made their staff and customers aware of the sale prior to listing it.
According to the listing, the "notable staple and thriving icon" comes turnkey, "with everything included to keep this well-established business profitable and sustainable."
All the equipment, furniture, recipes, and even owner-provided training are included in the sale, plus an additional 30'x40' commercial building that's currently leased.
The Sand Bar and Grill's current menu includes nachos, chicken wings, sandwiches, wraps, salads, burgers, fried fish, pasta, steak, and more.
The listing notes,
The Sand Bar isn't just a restaurant. It's a community center. It's where people gather to make great memories and to make and maintain friendships. It's a fun place where everyone knows your name.
What do you think? Do you want to own Middleville's "Cheers"?
I LOVE the nautical decor, the ceiling, and the outdoor patio!
Gun Lake's Sand Bar & Grill For Sale For $1.6M
A popular bar and restaurant in a recreation area known for vacationing, boating, fishing, hiking, and more has hit the market. The Sand Bar & Grill in the Yankee Springs/ Gun Lake region is for sale for $1.6 million. The Middleville, Michigan, pub offers indoor and outdoor seating. The
sale
includes all equipment, furniture, and recipes, plus an additional 30'x40' commercial building.
$8.5 Million Log Cabin Island Retreat in Michigan's Upper Peninsula
No, it's not Montana or even the set of "Yellowstone". This breathtaking million-dollar retreat is located in the Upper Peninsula of Michigan near the Wisconsin border and is everything a nature lover has dreamt of. With its 16 acres of wilderness and lakeside beauty, any fisherman or someone looking to escape from it all would simply love it. Over 10,000 square feet of space with 7 bedrooms and 9 bathrooms, this log home Island family retreat on the famous Cisco Chain of Lakes is meant for large family get-togethers and big gatherings.
Take a look at what tranquility and heaven on earth really look like.
Million Dollar Lake Fenton Home Features Awesome Man Cave
Fabulous Northern Michigan Home With Views of the Mackinac Bridge For Sale
Take a look inside this northern Michigan home with a pure Michigan view.