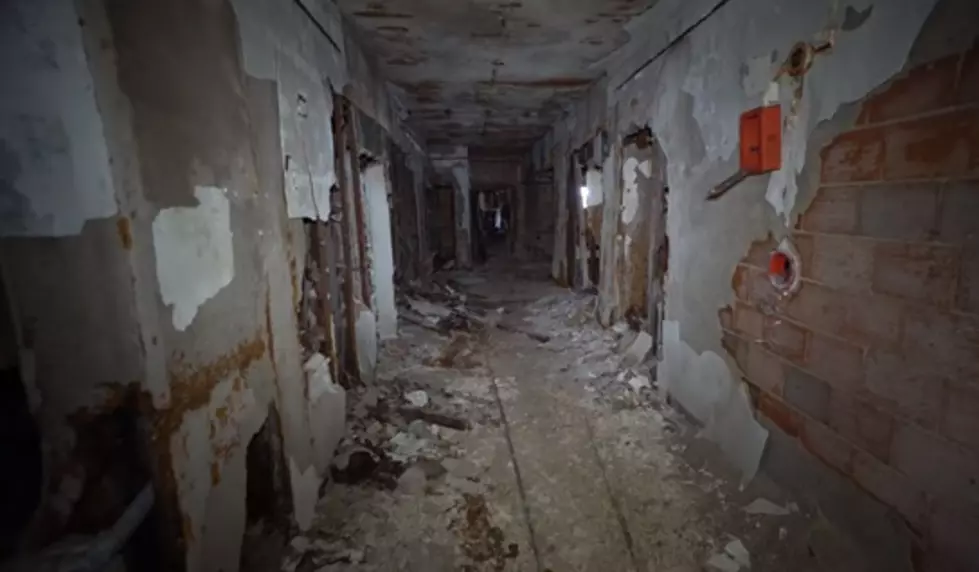 Abandoned Hospital in Three Rivers
Screenshot courtesy of Ruin Road, youtube
WARNING: Under no circumstances should you enter this property. By doing so you risk bodily harm and/or prosecution for trespassing on private property.
As with many abandoned or deserted structures, this one is reported to be haunted as well.
The old Three Rivers Hospital lies on a small hill near the junction of the Rocky River and the St. Joseph River in the town of Three Rivers in St. Joseph County.
The creepy atmosphere of the old hospital is offset by the beautiful surroundings: a petting zoo, scenic park, and a couple of rivers alongside. But as you approach the old building, you notice a feeling of hesitation when you see the dark broken windows and odd cages behind the building.
As you may expect, trespassers, ghost hunters, and vandals abound. Further behind the hospital is Scidmore Park, which includes a playground and petting zoo. Were the cages behind the hospital for animals or something else? They are so far away from the actual petting zoo that it makes you wonder what they were for. Sure, someone will say "those cages are where the crazy people were kept" but that is SO not true…it was not a mental hospital.
Constructed in 1927, the hospital shut down permanently in 1987 after a new one was built. Still empty, still deteriorating, someone in town hopes to refurbish it into an apartment complex. $50,000 was granted in 2015, so where's the renovation?
But the rumors of hauntings in the old building are still whispered through town. Spirits of those who passed away & former staffers, giggling sounds of children who used to play on the grounds, lights passing by dark windows, and occasional shadow figures seen in & around the grounds at any time from dusk 'til dawn.
Magician Harry Blackstone Junior – son of legendary magician "The Great Blackstone" - was born at that very hospital in 1934.
The old Three Rivers Hospital is located at the intersection of Millard & Spring streets right where the two above-mentioned rivers meet. Care to visit?
Wanna read more 'Haunted Michigan' locations? Click here for more of John Robinson's Haunted Michigan!
MORE ABANDONED MICHIGAN STUFF!
The Michigan Railroad That Was Never Used
15 Michigan Abandoned Sites
Abandoned Stone Building in Bay Shore
Lizzie Borden's Maplecroft Is Back on the Market in Fall River, Massachusetts
Celebs Share Their Personal Paranormal Stories