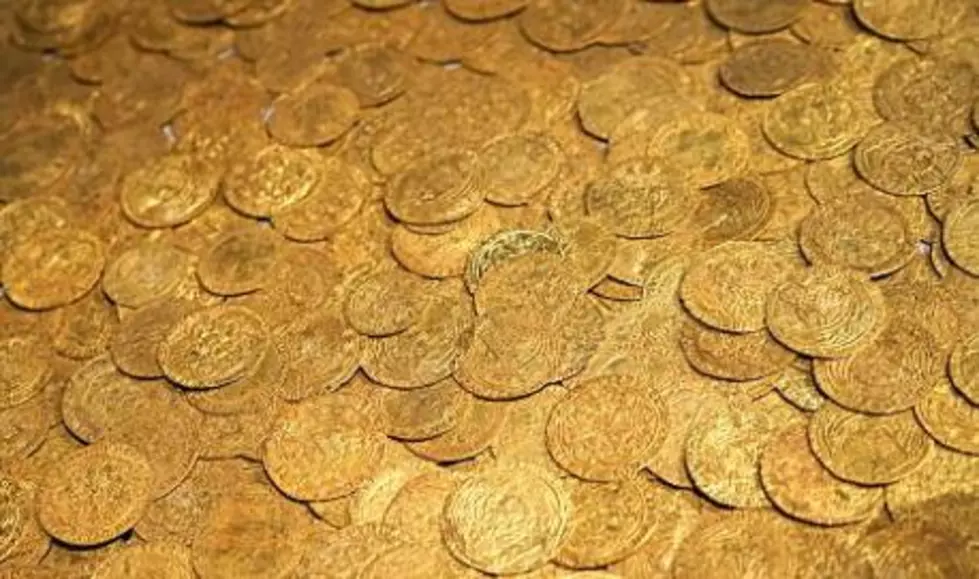 MICHIGAN BURIED TREASURE: A Half Million in Gold Still Unclaimed
Getty
Is this just an urban legend...or is it legitimate? If it's real, how are your detecting skills? Do you think you could find a buried treasure that's been unclaimed for almost 150 years?
Back in 1874, according to dailyoddsandends.com, a stagecoach was on it's way to Benton Lake, where it was supposed to drop off a payroll of $74,000 in gold coins to the lumber camp. However, the stage was held up and the robbers got away with all the gold, valued today at a half million dollars.
The bandits feared the lumberjacks for good reason...they had no desire to be caught, beaten, lynched or maybe even chopped into bits with a lumberjack axe. So, upon arriving on the north shore of Benton Lake, they decided to stop and bury the gold, just in case they were caught...that way they MIGHT'VE been able to lie their way out of it. They found an easy marker: two tree stumps...then they stuffed the gold in an old cast iron stove and buried it all between the stumps.
It's believed that the gold is still there...so why hasn't anyone found it yet, since the location is known?
Because after almost 150 years, the shoreline has changed and the stumps have disappeared. Benton Lake is literally out in the middle of NOwheresville, so nobody should bother you, if you decide to treasure hunt. Seems like a metal detector shouldn't have a problem locating a cast iron stove, right? But for all we know, the treasure could now be buried under the lake.
WHERE is Benton Lake? In the Huron-Manistee National Forest. Take US37 up to Brohman; head west on W. Pierce Drive (9 Mile Road) for 4 miles and you're there at Benton Lake campground.
Wanna try?
MORE RELATABLE STUFF:
Gold Found at Lake Superior
Abandoned Silver Mine, Lake Superior
Jason Voorhees Buried Underwater