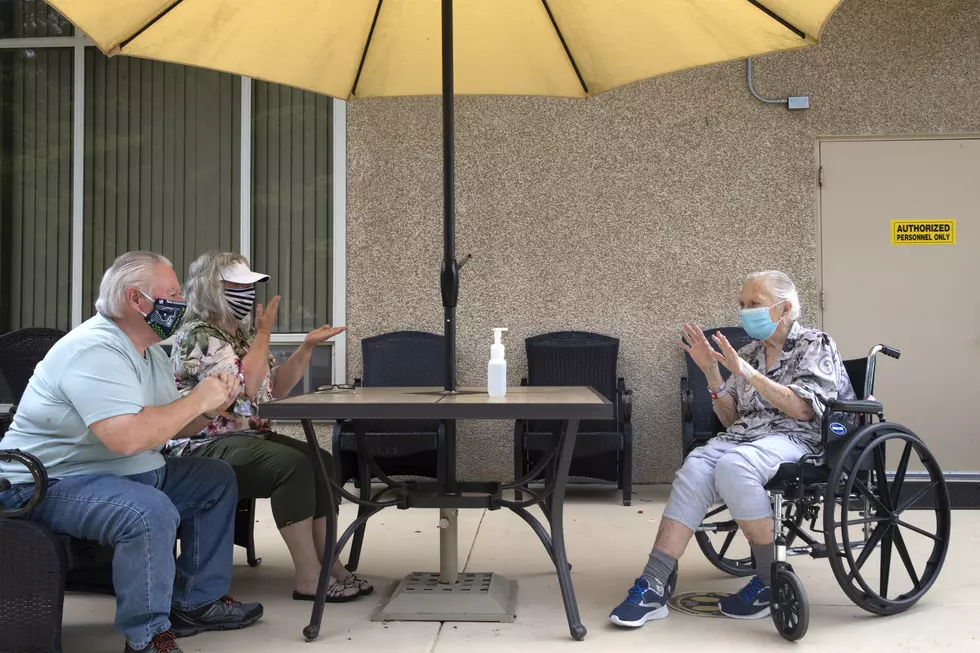 Rules Change To Allow You To Visit Grandparents in Facilities
AUGUST 24: Kevin and Laurie Callahan (L) blow kisses during a visit with Lauries mother, Jean LeBoutillier, at the Life Care Center of Kirkland on August 24, 2020 in Kirkland, Washington. This is the first time they have seen each other in person since February when coronavirus (COVID-19) raced through the facility. Recently Washington state Governor Jay Inslee issued a directive to allow visitors to long-term care facilities. The families cannot touch, must visit outside and stay socially distant. The Life Care Center of Kirkland, a nursing home, was an early epicenter for coronavirus (COVID-19) outbreaks in the U.S. According to a report by the CDC, at least 37 coronavirus deaths have been linked to this facility. (Photo by Karen Ducey/Getty Images)
Having parents and grandparents in assisted and healthcare facilities is never easy. It's been particularly hard on families during the Coronavirus Pandemic. The elderly are the most vulnerable demographic in the population, and visits have been prohibited, which, has created its own set of problems and worries; elderly patients, some with dementia related symptoms not understanding why they've been abandoned by their families.
A little bit of good news on that front Thursday, as the Michigan Department of Health and Human Services has modified some rules put into place by the Governor's Executive Order.
People living in residential care facilities such as nursing homes will be able to see visitors outdoors under a new epidemic order that goes into effect on September 15th.
"Limiting visitation has saved lives," MDHHS Director Robert Gordon said in a release. "And seeing loved ones in person is important for mental health. Allowing outdoor visits – with proper procedures such as requiring social distancing and masks – is good for residents and can keep everyone safe."
Here are the new state rules going into effect on September 15th:
To allow visitation, the facilities must, among other things:
Permit visits by appointment only.
Limit the number of visitors during each scheduled visit to two people or less.
Exclude visitors who cannot or will not wear a face covering during the entire visit.
Require visitors to maintain social distancing.
Limit the number of overall visitors at the facility at any given time based upon space limitations, infection control capacity and other appropriate factors to reduce the risk of COVID-19 transmission.
Prohibit visits to residents who are in isolation or under observation for symptoms of COVID-19.
Enter your number to get our free mobile app
NEVER FORGET: Images from 9/11 and the days after