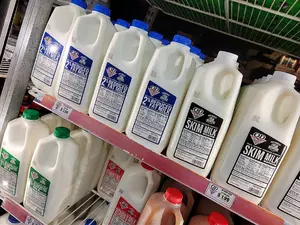 Lansing-Area Residents Loved Quality Dairy Bagged Milk, What the Heck is it?
McConnell Adams / TSM Lansing
Recently, we talked about how the CEO of Quality Dairy, Ken Martin, stands by the quality of QD's products like their French onion dip, ice cream, milk, etc.
See Related:  Quality Diary CEO Weighs in On Speculation Over Lansing's Favorite Chip Dip 
Martin stated that nothing as far as ingredients had changed and that any changes to packaging were due to supply chain shortages. However, one type of packaging people around Lansing seem to really miss is the bags QD's milk used to come in.
That lead us to quite a few questions but, to start, we're just going to go with...WHAT THE HECK IS BAGGED MILK?
What is Bagged Milk and Why is it Mainly Found in Canada?
For starters, bagged milk is exactly what it sounds like it is...milk that is sold in bags.
When I first mentioned something about it to my coworkers here at the office, one was confused by the whole thing while another said "like...slap the bag? or like boxed wine?"
While I do think the visual of playing "slap the bag" with milk sounds absolutely horrific (especially being lactose intolerant) I do think bagged milk should have a fancy little spout like boxed wine does. However, this is what bagged milk looks like:
According to TVO, they were originally referred to as "pillow pouches" and other sources say "milk bladders" (please don't EVER call it that...that's awful).
This style of selling milk was introduced in 1967 by the controversial, American chemical company DuPont, according to TVO.
From there, per Eater, they collaborated with Guaranteed Pure Milk Company to test out these pouches in Montreal and Vancouver. When Canada then switched to using the metric system, the bags stuck around as it was easier to adapt those to new measurement standards.
Bagged milk had its moment throughout the 1970's and in some Canadian provinces, has stuck around. However, did it have much staying power here in the states?
Lansing's Own Quality Dairy Bagged Milk
While we are not sure about where in the rest of Michigan was bagged milk a thing but people in Facebook comments sure let us know that Quality Dairy's was the best.
"Magic Johnson, swishing into a trash can outside saying (with his gorgeous grin) 'never saw it'," Lisa said, "That's what QD means to me (oh, and bagged milk…is that still a thing?)"
Lisa was referring to this Magic Johnson QD commercial from back in the day:
In response to Lisa's comment, Holly said she too loved the bagged milk. Tressa also said the bagged milk "is very missed."
All of this led us to wonder, what ever happened to Quality Dairy's bagged milk?
Well, another commenter named James shed some possible insight:
"The backer machine broke and they did not replace it a long time ago," he said. "Well over a decade."
Of course, we are not sure the validity of James' statement so we reached out to Quality Dairy themselves for an explanation...we have not heard back YET.
Should We Go Back to Bagged Milk?
It sure seems that there are some Quality Dairy regulars around Lansing that miss the bagged milk, but does everyone else?
We understand that it looks just as strange as it sounds and maybe that's part of why it didn't stick around here in the states...but what if it was actually better for the environment than the plastic jugs and/or cartons we're all used to?
According to TVO and Eater, that could be the case. There is also evidence that suggests it creates less food waste as the milk has to be used up quicker before it spoils. Having it in a bag lessens the time frame it just sits untouched on a shelf and creates a sense of urgency.
However, do you really want a bag of milk pressuring you from the refrigerator?
We know we're throwing out a lot of questions here so we will leave you with just one last one, would you use bagged milk?
LOOK: Food history from the year you were born
From product innovations to major recalls,
Stacker
researched what happened in food history every year since 1921, according to news and government sources.