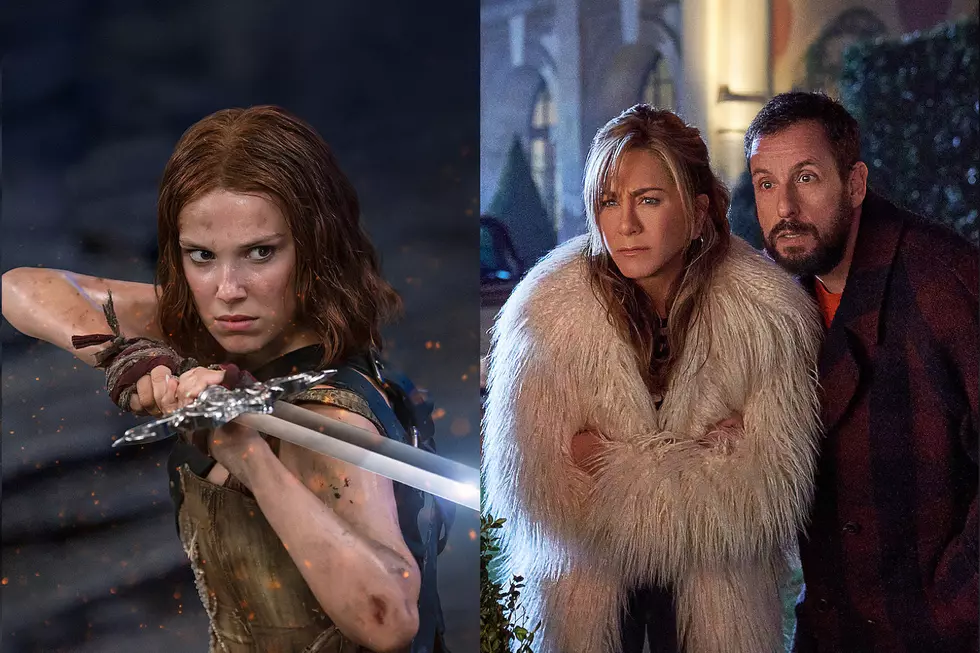 Netflix Unveils Full Lineup of 2023 Movies
Netflix
David Fincher. Zack Snyder. Kenya Barris. Wes Anderson. Robert Smigel. F. Gary Gray.
What does this extremely eclectic group of filmmakers have in common? They are all filmmakers with big Netflix movies coming in 2023. The streaming service unveiled their slate of titles coming in the next year. The highlights include a new film from Fincher and Andrew Kevin Walker (the team behind Se7en!) starring Michael Fassbender and Tilda Swinton, a new Luther movie starring Idris Elba, and a sequel to the Netflix comedy hit Murder Mystery starring Adam Sandler and Jennifer Aniston.
The list below only includes the titles with hard and fast release dates. Netflix has at least another 15 undated titles coming at some point in the months ahead, including their sequel to Chicken Run, Bradley Cooper's biopic about the life of composer Leonard Bernstein, as well as Wes Anderson's new movie, described as an "adaptation of several Roald Dahl short stories including 'The Wonderful Story of Henry Sugar.'"
Here's what to look for in 2023 from Netflix:
January 27
You People 
When a rideshare mix-up in LA brings Ezra Cohen (Jonah Hill) and Amira Mohammed (Lauren London) together, the two find themselves connecting over a shared love of streetwear and music. As they fall in love, their relationship is tested by their respective families: Ezra's progressive and semi-woke parents (Julia Louis-Dreyfus and David Duchovny) and Amira's unyielding yet concerned parents (Eddie Murphy and Nia Long) who inject themselves into their lives mercilessly.
January 31
Pamela, A Love Story
An intimate and humanizing portrait of one of the world's most famous blonde bombshells, Pamela, a love story, follows the trajectory of Pamela Anderson's life and career from smalltown girl to international sex symbol, actress, activist, and doting mother.
February 3
True Spirit
When the tenacious young sailor Jessica Watson (Teagan Croft) sets out to be the youngest person to sail solo, non-stop and unassisted around the world, many expect her to fail. With the support of her sailing coach and mentor Ben Bryant (Cliff Curtis) and her parents (Josh Lawson and Academy Award winner Anna Paquin), Jessica is determined to accomplish what was thought to be impossible, navigating some of the world's most challenging stretches of ocean over the course of 210 days.
February 8
Bill Russell: Legend
The definitive documentary about the life and legacy of NBA legend and civil rights icon Bill Russell from award-winning director Sam Pollard (MLK/FBI). The film features exclusive interviews with Bill before his passing in 2022 as well as access to his sprawling personal archives. From the humblest of beginnings, Russell went on to lead each and every one of his basketball teams to championships — two back-to-back NCAA titles, a Gold Medal at the 1956 Melbourne Olympic Games, and 11 championship titles in his thirteen-year career as a Boston Celtic (his last two as the first Black Head Coach in NBA history).
February 10
Your Place or Mine
Debbie and Peter are best friends and total opposites. She craves routine with her son in LA; he thrives on change in NY. When they swap houses and lives for a week they discover what they think they want might not be what they really need.
February 24
We Have a Ghost
Finding a ghost named Ernest haunting their new home turns Kevin's family into overnight social media sensations. But when Kevin and Ernest go rogue to investigate the mystery of Ernest's past, they become a target of the CIA.
March 10
Luther: The Fallen Sun
In Luther: The Fallen Sun — an epic continuation of the award-winning television saga reimagined for film — a gruesome serial killer is terrorizing London while brilliant but disgraced detective John Luther (Idris Elba) sits behind bars. Haunted by his failure to capture the cyber psychopath who now taunts him, Luther decides to break out of prison to finish the job by any means necessary.
March 17
The Magician's Elephant
When Peter (voiced by Noah Jupe), who is searching for his long-lost sister named Adele (voiced by Pixie Davies), crosses paths with a fortune teller in the market square, there is only one question on his mind: is his sister still alive? The answer, that he must find a mysterious elephant and the magician (voiced by Benedict Wong) who will conjure it, sets Peter off on a harrowing journey to complete three seemingly impossible tasks that will change the face of his town forever and take him on the adventure of a lifetime.
March 31
Murder Mystery 2
Now full-time detectives struggling to get their private eye agency off the ground, Nick and Audrey Spitz find themselves at the center of an international abduction when their friend the Maharaja is kidnapped at his own lavish wedding.
April 27
A Tourist's Guide to Love
After an unexpected break up, a travel executive accepts an assignment to go undercover and learn about the tourist industry in Vietnam. Along the way she finds adventure and romance with her Vietnamese expat tour guide when they decide to reroute the tour bus in order to explore life and love off the beaten path.
May 12
The Mother
A deadly female assassin comes out of hiding to protect the daughter that she gave up years before, while on the run from dangerous men.
June 16
Extraction 2
Chris Hemsworth returns as Tyler Rake in Extraction 2, the sequel to Netflix's blockbuster action film EXTRACTION. After barely surviving the events of the first movie, Rake is back as the Australian black ops mercenary, tasked with another deadly mission: rescuing the battered family of a ruthless Georgian gangster from the prison where they are being held.
July 21
They Cloned Tyrone
A series of eerie events thrusts an unlikely trio (Boyega, Foxx and Parris) onto the trail of a nefarious government conspiracy in this pulpy mystery caper.
August 11
Heart of Stone
Rachel Stone (Gal Gadot) is an intelligence operative, the only woman who stands between her powerful, global, peace-keeping organization and the loss of its most valuable — and dangerous — asset.
August 25
Lift
An international heist crew is recruited to prevent a terrorist attack, and must pull off the heist on a plane mid-flight.
October 13
Damsel 
A dutiful damsel agrees to marry a handsome prince, only to find the royal family has recruited her as a sacrifice to repay an ancient debt. Thrown into a cave with a fire-breathing dragon, she must rely on her wits and will to survive.
October 27
Pain Hustlers
Upon losing her job, a blue-collar woman struggling to raise her daughter takes a job at a failing pharmaceutical start-up, only to get involved in a dangerous racketeering scheme.
November 10
The Killer
After a fateful near-miss an assassin battles his employers, and himself, on an international manhunt he insists isn't personal.
November 17
A Family Affair
A surprising romance kicks off comic consequences for a young woman, her mother and her movie star boss as they face the complications of love, sex, and identity.
November 22
Leo
Actor and comedian Adam Sandler (Hotel Transylvania, The Wedding Singer) delivers signature laughs in this coming-of-age animated musical comedy about the last year of elementary school – as seen through the eyes of a class pet. Jaded 74 year-old lizard Leo (Sandler) has been stuck in the same Florida classroom for decades with his terrarium-mate turtle (Bill Burr). When he learns he only has one year left to live, he plans to escape to experience life on the outside, but instead gets caught up in the problems of his anxious students - including an impossibly mean substitute teacher. It ends up being the strangest but most rewarding bucket list ever...
December 8
Leave the World Behind
A family vacation on Long Island is interrupted by two strangers bearing news of a mysterious blackout. As the threat grows more imminent, both families must decide how best to survive the potential crisis, all while grappling with their own place in this collapsing world.
December 22
Rebel Moon
When a peaceful colony on the edge of the galaxy finds itself threatened by the armies of the tyrannical Regent Balisarius, they dispatch a young woman with a mysterious past named Kora to seek out warriors from neighboring planets to help them take a stand.
The Most Popular Films on Netflix
These are the ten most popular films (in English), based on hours viewed in their first 28 days on Netflix. (The numbers come from
Netflix's official site
.)