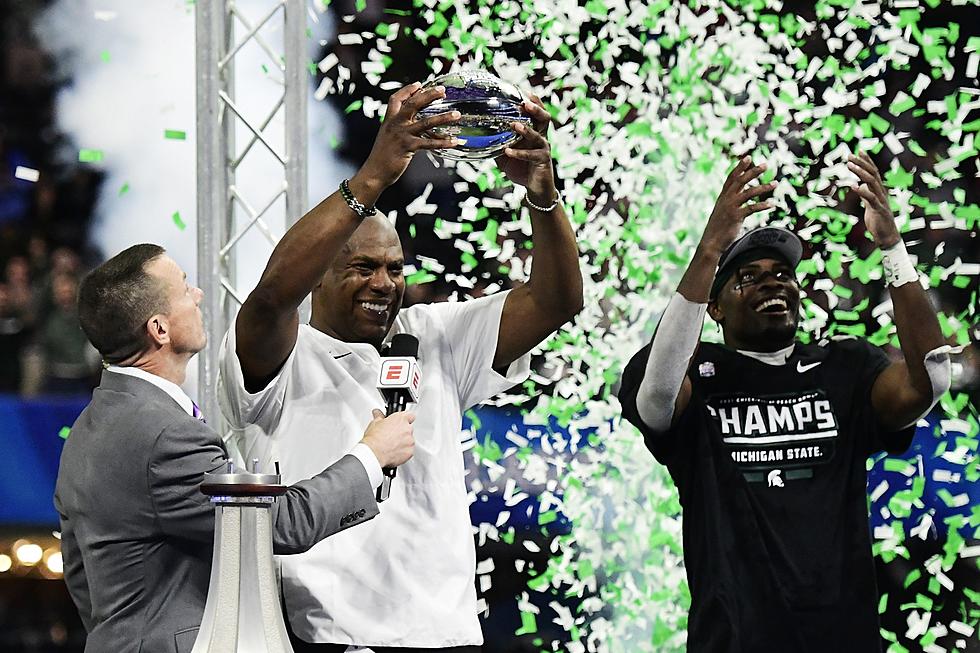 MSU Football Assistants Get Raises For 2022
Getty Images
MLive's Matt Wenzel is reporting that seven returning Michigan State assistant football coaches will get pay raises for the 2022 season.
The website reports that the seven coaches will get two year extensions.  And that three of them will make in excess of $1 million a season starting this coming fall.
As you know, Michigan State head football coach Mel Tucker (pictured above after the victory in the Peach Bowl) agreed to a new 10-year deal worth $95 million back in November.  That makes Tucker one of the highest-paid coaches in the nation.
The three coaches that will make more than $1 million next season are:  Offensive Coordinator Jay Johnson at $1.35 million, Defensive Coordinator Scottie Hazelton at $1.1 million, and Offensive Line Coach Chris Kapilovic will make $1 million next season.
Other assistant coaches receiving raises are:  Special Teams Coordinator Ross Els, Tight Ends Coach Ted Gilmore, Defensive Backs Coach Harlon Barnett, and Wide Receivers Coach Courtney Hawkins.
The entire football staff, not counting Tucker, will make just under $7 million combined.  That puts the Spartans eighth in the nation and second in the Big Ten behind Ohio State.  Clemson University's assistants make $8.5 million combined.
Michigan State football finished the 2021 season with a 12-2 record and a 31-21 victory over Pittsburgh in the Chick-Fil-A Peach Bowl in Atlanta, Georgia.  The Spartans finished 3rd in the Big Ten East, but ended up 9th in the Associated Press writers poll and eighth in the American Football Coaches Association (AFCA) poll.
The next point on the agenda for Spartan football is spring practice.  Which begins on March 15th and concludes with the annual spring game in Spartan Stadium on April 16th.
Every Detroit Lions Quarterback Since 1960
There have been 40 Detroit Lions quarterbacks in the past 60 years, and not one of them has taken us to a Super Bowl.