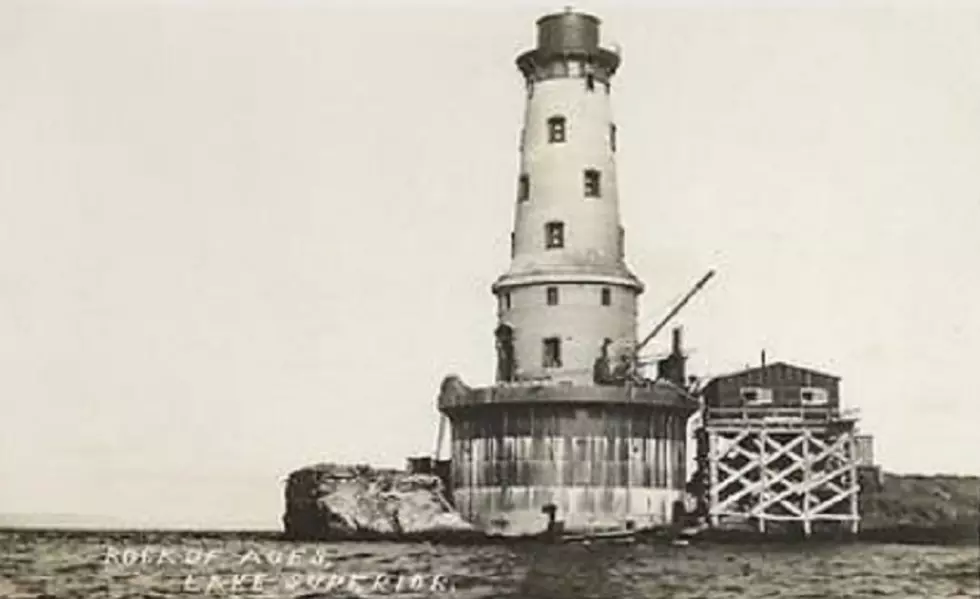 Michigan's Tallest Lighthouse: The 'Rock of Ages' on Lake Superior
available @ worthpoint.com
Michigan's tallest lighthouse sits five miles off the northwest end of Isle Royale. It's the Rock of Ages lighthouse, built in 1908. Not only is it the tallest, but one of Michigan's most powerful lighthouses.
After a couple of major shipwrecks – The Cumberland in 1877 and the Henry Chisholm in 1898 – a lightbulb went off in the brains of the Lighthouse Board members, telling them 'you better get a lighthouse built there, pronto'.
The lighthouse stands 130 feet tall and cost $125,000.
With a range of 29 miles on a fogless night, the Rock of Ages was the most powerful lighthouse in Michigan. It took a crew of four to run the place: head keeper, first assistant, and the second and third assistants. Four-member crews lasted until 1977, where they all shared duties on all ten levels of the structure.
Even though this was one of – if not THE – most powerful Great Lakes beacons, it still has tales to tell.
On May 27 1933, the steamer George M. Cox was on its way from Houghton to Ontario when it got stranded on a reef not far from Rock of Ages.  The passengers were enjoying dinner when the ship smashed into a reef, causing diners, tables, chairs and food to be tossed and thrown.
All 127 persons got safely to the lighthouse but there was not enough room to accommodate everyone. They had to alternate turns warming inside the lighthouse and huddling on the chilly rocks outside. Four crew members were injured but all survived.
Now take a look at the inside of this historic Great Lakes lighthouse.....Michigan's Tallest!
Michigan's Tallest Lighthouse - The Rock of Ages
MORE MICHIGAN LIGHTHOUSES:
The Lighthouse Ladies
Deserted Fourteen Mile Point Lighthouse
Old Michigan Shipwrecks, Early 1900s