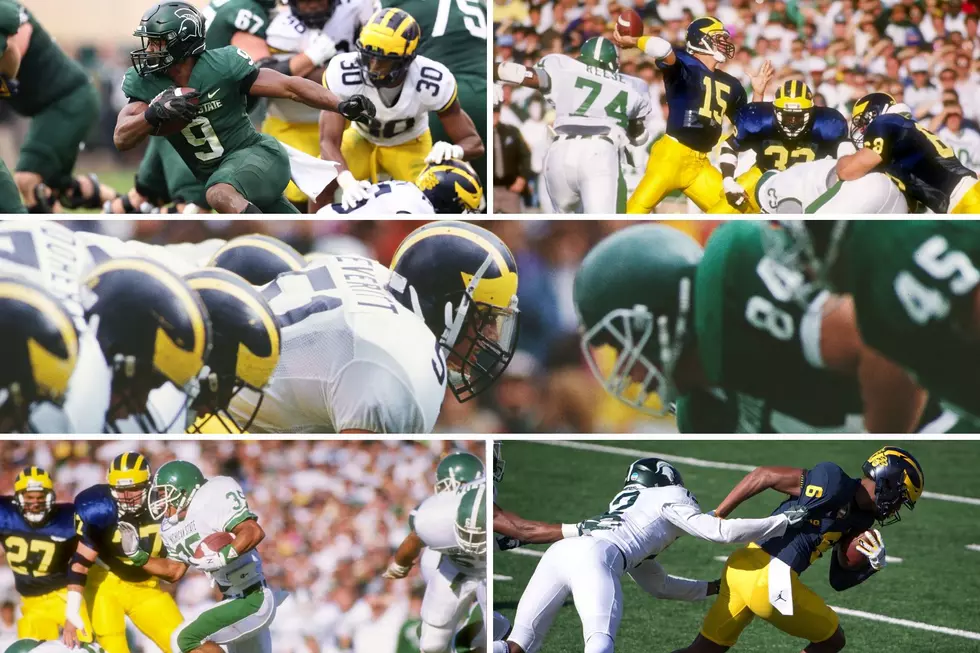 MSU V U of M: Not Exactly a Tale As Old As Time, But A Historic Rivalry
Photo by Rick Stewart/Allsport/Getty Images/Photo by Gregory Shamus/Photo by Nic Antaya/Jonathan Daniel/Stringer/Jonathan Daniel /Allsport
College football is rooted in tradition. For years, rivalries were everything. State rivalries, even more so. The problem is, tradition has fallen by the wayside. Many of college football's divisions, including the Big Ten, have realigned for financial purposes. That realignment has been at the cost of some great rival games. Some of which are inner state. Texas and Texas A&M , Pitt and Penn State, and Florida and Miami are a few of those casualties. Thankfully, Michigan and Michigan State were not among them.
Michigan and MSU have battled it out 114 times. The first coming in 1898. The lumberjack trophy didn't come around until 1953. In the entire history of this stoic rivalry, the games have never been played anywhere but Ann Arbor or East Lansing. Michigan leads in overall wins and MSU had its most consecutive string of success in the 50s and 60s.
State has upset Michigan for the last two years. In both cases, Michigan has been ranked higher and had a stronger team. The rivalry has sparked some unforgettable football moments:
2001's "Clockgate." MSU took a 26-24 victory on the final play of the game. In 2003, the 7-1 Spartans lost and gave up 219 yards on the ground. It pretty much sent the rest of the season on a downward spiral. The "Moment of Silence," game came in 2007. In 2015, Michigan was seconds away from a win, but a blocked punt allowed MSU to snatch victory from the jaws of defeat. It also gave us a few of the greatest Michigan fan memes ever.
Once again, Michigan will be the favorite. State's season has not gone as planned and the Wolverines have playoff hopes. Saturday night, the rivalry renews. Most people outside of East Lansing are not giving MSU much of a chance. You got to have faith right. It is college football. Tradition and rivalry makes teams rise above.  Michigan might be the stronger team, but Appalachian State beat them. This Saturday, maybe Sparty can too!
Go green!
KEEP READING: Here are 50 of the most famous sports goofs