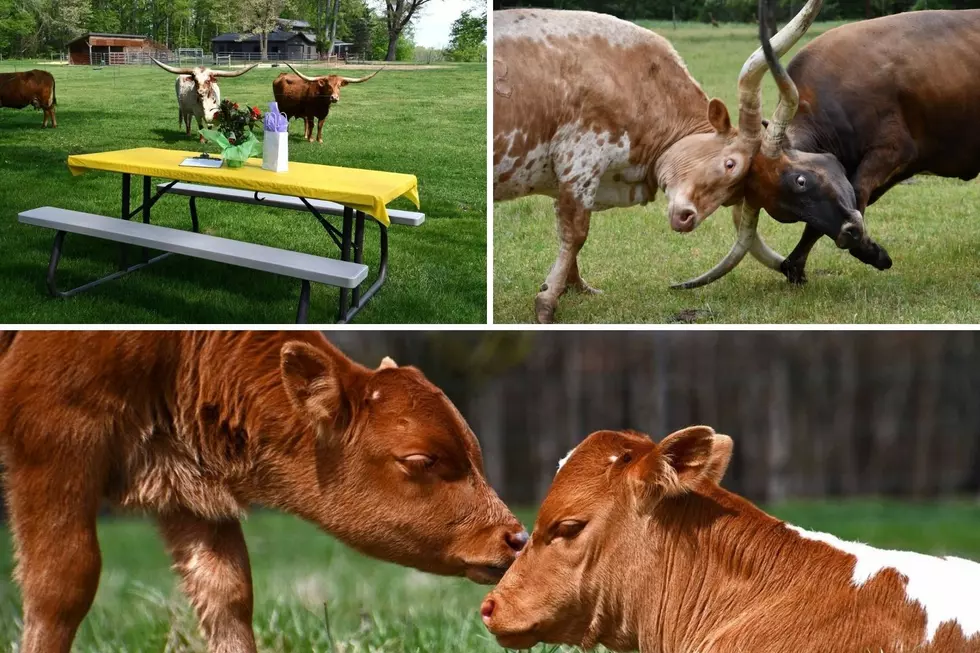 Have a Picnic With Cows at This Terrific West Michigan Ranch
All Photo courtesy of Sherry via Airbnb
Could you use a little break? Perhaps a little time for some rest and relaxation? How about a picnic lunch?
You can enjoy what has to be the cutest picnic lunch in Michigan at the Texas Longhorn Ranch Picnic in Allendale Charter Township.
With a name like Texas Longhorn, you might be wondering what that has to do with Michigan. Let me tell you about this adorable Airbnb experience I came across.
Fun and Adorable Michigan Airbnb Experiences
In Allendale Charter Township (northwest of Lansing, about halfway between Grand Rapids and Grand Haven), a Texas Longhorn cattle ranch offers private time to watch the Longhorns graze and enjoy a picnic lunch. And the cutest part is that "the spring calves have arrived", so you get to watch the most adorable little calves wander around while you enjoy lunch.
The two-hour lunch begins with photos of you and the cattle in the background, and then a picnic lunch in the shade while you watch the cattle and their babies. By the end of your lunch, the owner, Sherry, will send you the edited pictures that were taken. You can go by yourself, or in a group of up to 10 people. It's $35 - 40 per person depending on the day you book a reservation. And if you want to enjoy the cute calves, there are openings on various Fridays and Saturdays from now until June 18th. They're also open on Memorial Day, Monday, May 30th, if you want to enjoy your holiday. You do have to bring your own lunch (or you can contact them for help in providing it), by the cute views are provided.
If this sounds like a fun time but you're on the fence about booking a reservation, take a look at some pictures from the experience. Perhaps the overwhelming adorableness of the calves may just push you over the edge into clicking that "reserve" button.
Enjoy a Cute Picnic Lunch at This West Michigan Cattle Ranch
If you are in need of a bit of rest and relaxation and have time to take a little day trip to Allendale Charter Township on Michigan's west side, then perhaps this adorable cattle ranch is just the place for you. You can book a two-hour picnic lunch at the Texas Longhorn Cattle Ranch Airbnb hosted by Sherry. She'll set up your table just outside of the grazing area, so you can graze on lunch while you watch adorable calves and cattle graze on grass. Take a look at all the cute photos below.
Check out these other places to vacation in Michigan.
This Tiny Michigan Airbnb is the Cutest and Coziest Couple's Getaway
If you're not ready to go back to Thanksgiving with the entire family this year, no worries. This tiny Michigan Airbnb is just big enough (and definitely cozy enough) for a stay for two. Check out this perfect couple's getaway in Grand Haven, Michigan.
Michigan Airbnb Made From a Retired Rollercoaster
When life gives you an old rollercoaster, break it down and use it to build a house.