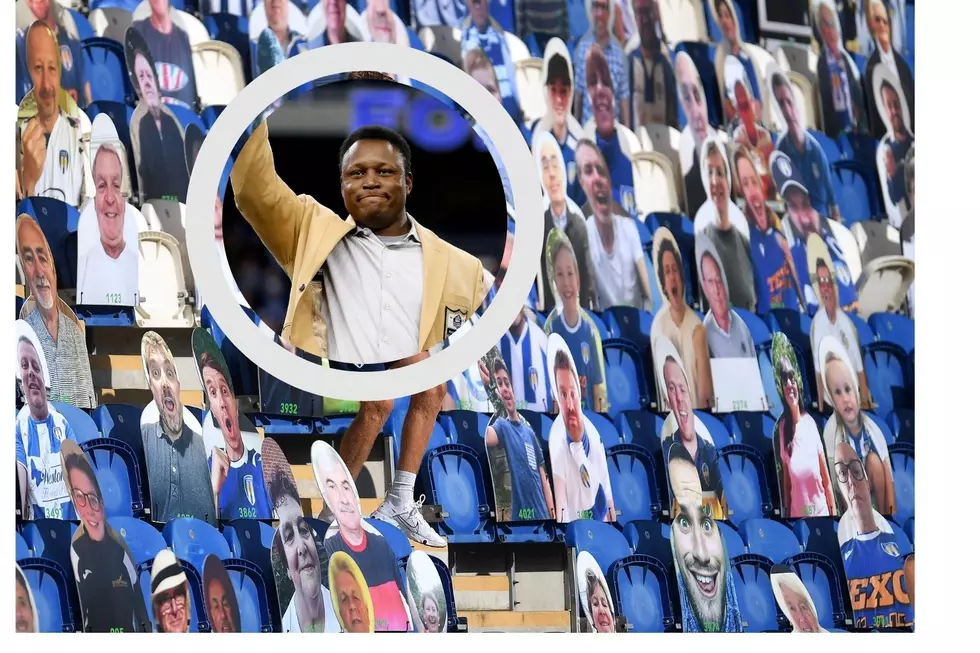 Maybe The Coolest Gift For A Lions Fan To Come From The Pandemic
(Exeter City at JobServe Community Stadium on June 18, 2020 in Colchester, England. Photo by Justin Setterfield/Getty Images) (Barry Sanders inset - Photo by Christian Petersen/Getty Images)
We're all tired of everything pandemic related, but like so many others, the Detroit Lions are trying to make the best of a bad situation. You've seen cardboard cutout fans at baseball games this summer? People are already seeing the humor in it. I saw a baseball game with "Bernie" from the movie "Weekend at Bernie's" sitting behind home plate. (I also saw a funny tweet last week: "2020: My cardboard cutout witnessed a no-hitter".)
Well, how about this for a long suffering Lions fan (are there any other kind?)
You can purchase a cardboard cutout to be placed in the stands at Ford Field, which will be fan-less to start the season.
There will be a limited number of cutouts available for purchase. Orders will be processed on a first-come, first-served basis. Fans will not have the option to select their own seat however, the earlier you purchase your cutout, the closer to the field your cutout will be! Images must be submitted and approved at least 7 days prior to the game. Orders processed after this time period will be installed for the next home game. Cutouts must be purchased by September 7 at 5PM EST to reserve a seat at the September 13 game against the Chicago Bears. - Detroit Lions
But here's the really cool part. How about having someone you love "sitting" with Hall of Famer Barry Sanders? As the Lions say: "Your cutout and Barry Sanders' cutout will watch the game from exclusive seats above the tunnel." That one will set you back a grand, but it's for charity and it would make a memory for someone like Dad.
Give the Lions credit, these are reasonably priced, and the money goes to Detroit Lions Charities, and some of that money goes towards fighting cancer. Here's the link to find out more.
Enter your number to get our free mobile app
Famous Michigan Athletes and their jersey numbers