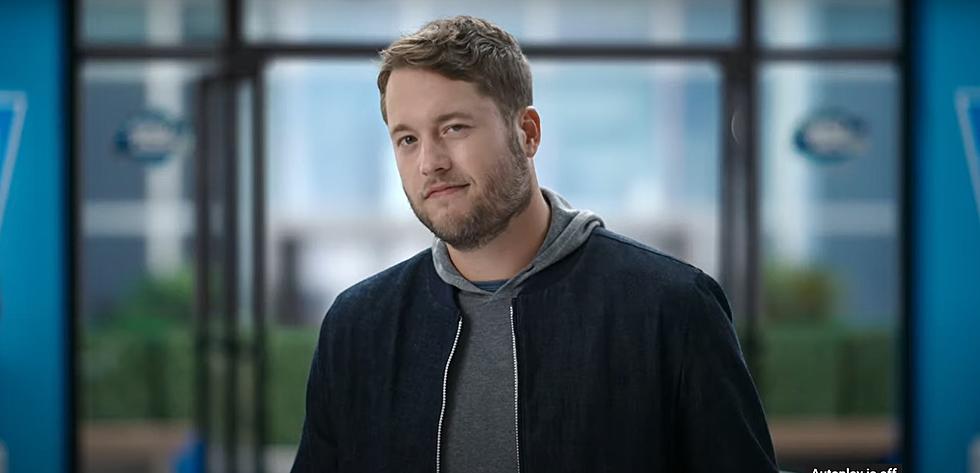 Matt Stafford's New Commercial Is A Detroit Lovefest
Lily + Matthew | AT&T commercial via AT&T YouTube
If you've been watching tournament basketball, I'm sure you've seen it.
Especially during games featuring teams from Michigan. Because that's who these commercials are aimed at. Sure the rest of the world will watch and laugh at it. And Rams fans might get it.
But no one will feel it the way we do in Michigan.
They won't truly get the ever-so-subtle love note that Matt Stafford is sending us in an AT&T mobile phone commercial.
Did you catch the dialogue?
Did you hear the questions? Did you feel him winking at you?
"So you can take your old phone that you've had for 12 years and loved every minute of it, and trade it in for something that suits your life now?" Stafford reads in the commercial, adding, "And enjoy immediate success? Even though you'll never forget your old phone, ever," with a wink to the camera. (clickondetroit)
Even the video description on YouTube is asking the question.
While AT&T's Lily is out for March Madness, she'll need

someone to help with phone trades in store. Matthew Stafford is stepping in, but is he really talking about phones?
AT&T has a whole series of commercials for the tournament basketball games guest-starring celebrities filling in for Lily.
Everyone else can have the ones below, but the Stafford spot was just for us Lions fans.
Thanks, Matt. We see you. Congrats champ.
Zooey Deschanel
Coach K (who apparently found time to do this while coming up with a plan to beat Tom Izzo and the Spartans)
Kumail Nanjiani (This : 30-second commercial was better than the whole Eternals movie he was in. Seriously.)
Matthew and Kelly Stafford Estate For Sale
SEE MORE: Our Favorite Detroit Lions Memes
MORE: 10 Best Detroit Lions Top 10 Draft Picks Of All Time