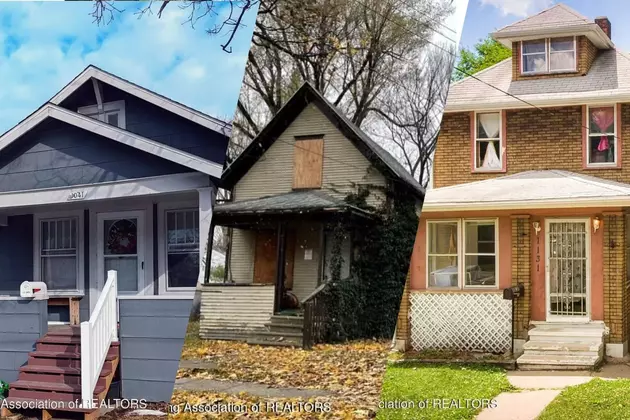 What a Deal! The 10 Cheapest Lansing Homes for Sale
Photo Courtesy of Beth Colston EXIT Realty At Home; Maggie Gerich RE/MAX Real Estate Professionals, Inc. East Lansing and Gerich & Flanders RE/MAX Real Estate Professionals, Inc. East Lansing; and Sava M Treloar and Gary Naeyaert of EXIT Realty Advantage. Collage created with Canva
My husband and I were incredibly lucky to become first-time homebuyers last year. And when I say lucky, I mean it too, because the housing market over the last couple of years has been no joke.
Michigan Housing Market
My brother and sister-in-law started looking at houses to buy back in August of 2020. At that time, they figured they would have more than enough time to buy a house and get moved in before the arrival of their first child in early March of 2021. Eh, wrong. They were sorely mistaken.
After putting in over 50 different offers on houses over the course of nine months, they finally closed on their current home in May of 2021. They weren't putting in lowball offers, either. They were offering a few thousand over the asking price most of the time but were usually beat out by higher offers or ones that were all cash. Cash is King, after all.
Fixer-Upper or Move-in-ready
If you're working with a smaller budget, trying to fight off people who have cash in hand or have thousands of extra dollars to throw around could prove to be difficult. It depends on what you're looking for, too.
If you are handy and have some DIY and/or home repair knowledge, a fixer-upper could be right up your alley. You get the chance to save money by doing the repairs yourself, and you get the chance to truly make it your own space. However, if home repair isn't really your thing, you could be looking for something a bit more move-in-ready. And if that's the case, something a bit smaller could work perfectly within your budget.
Cheapest Homes For Sale in Lansing
I did some searching on Zillow to see what kind of cheaper homes were for sale in Lansing, and I was very happy to see so many cute ones. Don't get me wrong, there are a couple on the list that definitely have some repairs that need to be addressed, but there are more than a few that are perfect as is. Take a look through the list below, and see if one of these houses is just calling your name.
What a Deal! The 10 Cheapest Lansing Homes for Sale
The housing market has been absolutely nuts the last couple of years. It seems like every time a new house hits the market, it's on there for about a day and a half before an offer is pending. Not only that, but buyers are making cash offers and offering thousands of dollars over the asking price. I don't know about you, but I don't have the budget to be offering thousands of dollars over the asking price just to have my offer looked at. If you're working with a smaller budget and you don't mind some DIYs and home repair, these inexpensive Lansing homes could be the perfect one for you. Take a look through the gallery below to see the 10 cheapest homes for sale in Lansing right now.
Take A Look In This Northern Michigan Home Near The Water
Enjoy the pleasures of Traverse City, Michigan, and Northern Michigan living with this home.