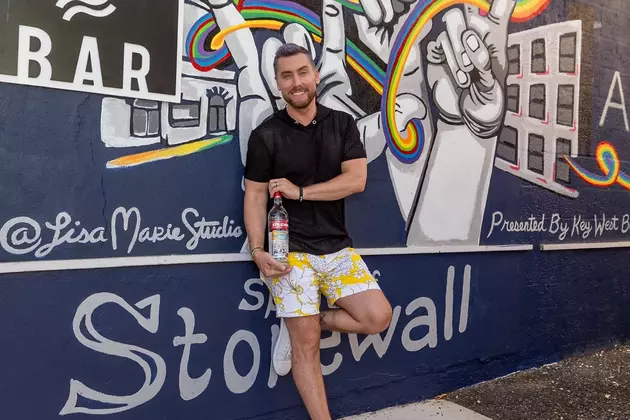 Lance Bass on When to Expect *NSYNC Reunion and the 'Crazy Offers' They've Received
Courtesy of Larry Blackburn Photographer
Seventeen years since after the group announced a hiatus that would never end, *NSYNC fans are hungrier than ever for the boy band to make a comeback, with demand reaching new heights after four of the five members reunited to perform alongside Ariana Grande at Coachella in May.
However, the thirst for a reunion reached a whole new level when the band's peers, and former rivals, joined the movement to bring *NSYNC back — first with Backstreet Boy Howie Dorough sharing how he encouraged the group to continue as a foursome as BSB once did, then as New Kids on the Block's Donnie Wahlberg pulled Lance Bass on stage in Hollywood and urged him to reform the group even if it's without Justin Timberlake.
"It really does take things to another level," Bass tells PopCrush about how the peer encouragement has influenced the group's thoughts on reuniting. "It's so sweet to hear those bands really supporting us and encouraging us to do it again. It's hilarious that we were once rivals and now we're all like, 'Kumbaya' and wanting to tour together!"
"It's great and one day hopefully we will be able to figure something out," he continues. "It's something we're not talking about right now, but you never know. Since Coachella there's been some really crazy offers come our way and it's the first time people have given us actual offers, so we would be dumb not to talk about it."
Bass notes that he and his bandmates (JC Chasez, Joey Fatone and Chris Kirkpatrick) are "slow," so while there's a very real possibility of the four planning future projects, it's unlikely to be within the next year. "You know how slow we are, so I don't see this happening anytime soon," he says. "But hopefully soon we'll be able to discuss it and see what happens."
In the meantime, Bass has plenty on his plate, having opened his own bar, Rocco's WeHo, and recently retured from Florida, where he was a judge in Stoli's Key West Cocktail Classic, an event to celebrate LGBTQ+ bars and bartenders. Bass attended with his husband of four years, Michael Turchin, and had a blast at the event, where New Yorker Samuel Benedict was crowned champion thanks to his Key Key cocktail creation.
He also recently officiated the nuptials of Vanderpump Rules stars Brittany Cartwright and her fiancé, Jax Taylor — a longtime pal of Bass', with whom he recently launched a mixers line called JAX, which stands for Just Add X.
Bass is also close with another Vanderpump Rules star — Lisa Vanderpump, who he's looking forward to continuing watching on the reality series following her exit from the Real Housewives of Beverly Hills. "It was about time," Bass says of Vanderpump's exit from the show. "She should have left a long time ago. I called this about four years ago! I knew the ladies would figure out some way of how to take her down. They've been planning it for years so I just wish she would have gotten out before they enacted it."
"But she's a strong lady," Bass adds. "She has many things going on in her life, so I don't think she's worried at all. She of course cares about what people think of her, but I think at this point she was just over it."
If restaurants, cocktail contests and weddings aren't enough to keep Bass busy, he's also working with Sir Richard Branson on a "futuristic" music festival called Virgin Fest, which the pair plan to launch in multiple cities around the globe in 2020. Together with Wahlberg, he is also brainstorming ideas for a collaborative television project. He and Turchin are also continuing their journey to become parents via surrogacy and are now up to their seventh egg donation. "My fingers are crossed," he says.
With so much going on, Bass also remains focused on his health, after opening up in 2018 about how the nature of the entertainment industry has triggered battles with mental health. These days, he says keeping busy keeps him smiling.
"I've learned that I work best when I'm really busy," Bass shares. "I don't like having much idle time; it drives me crazy, so when I'm really busy is when I work best and am the happiest. Right now, I'm happy because I have about 20 different companies and projects launching this year and it's been so fun. Yes, it's hard to juggle, but it's about creating amazing teams who help you run every individual business and you just have to trust them. So right now, I've got some incredible teams!"
Here's What NSYNC Looked Like in 1998