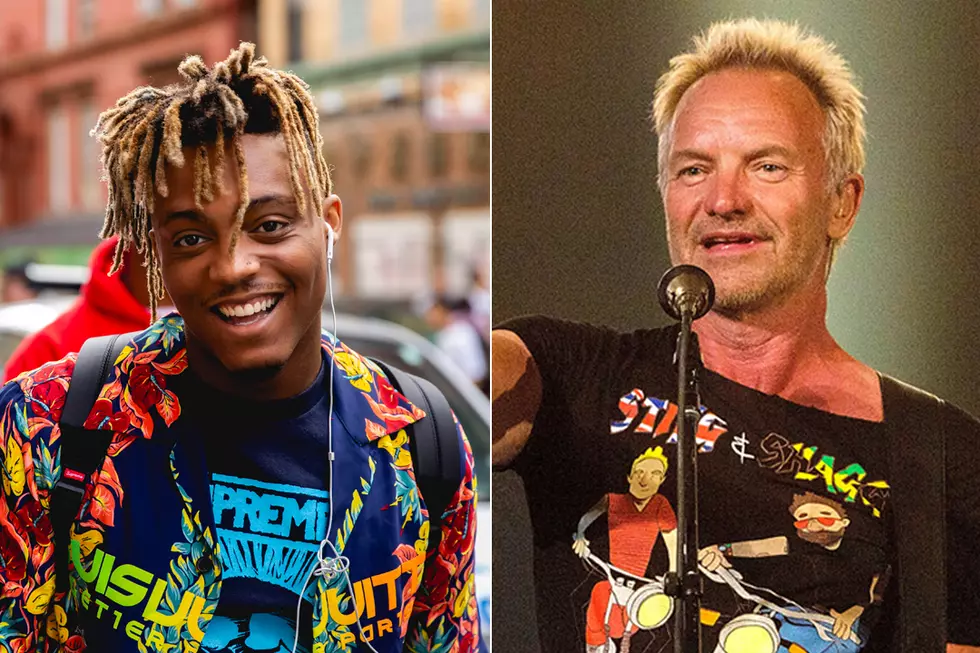 Juice Wrld Calls Sting the G.O.A.T. After Singer Praises "Lucid Dreams"
@wheresdiggity / Daniel Knighton, Getty Images
Last week, legendary U.K. singer Sting gave Juice Wrld a massive compliment when he told Billboard that the Chicago rapper's hit single, "Lucid Dreams" was a "beautiful interpretation" of the acclaimed artist's 1993 single, "Shape of My Heart." Now, Juice Wrld has returned the favor.
Speaking with the folks at TMZ as he walked through Los Angeles International Airport last Thursday (Oct. 18), Juice showed his appreciation for the musical legend. His ultimate Sting praise popped up when a reporter told him that Sting had said the commercial success of "Lucid Dreams" would pay for his grandkids' college tuition.
"Shout out to Sting, that's the G.O.A.T. right there," said Juice, who says that he'd have to "dive in" when the outlet asked him if he'd collab with the legend. "The goat. Greatest of all time."
Before serving up that bit of reverence, Juice responded to reporters telling him that Sting's guitarist, Dominic Miller, said "Lucid Dreams" was the "most intelligent version" of the guitar riff he'd ever heard. As you probably could have guessed, an "I told you so" was in order.
"Damn. All my teachers that called me dumb...they can suck my left and my right nut, man," Juice said in response to the interviewer.
Watch Juice Wrld speak on Sting below.
See Photos From Juice Wrld's Shopping Trip With XXL