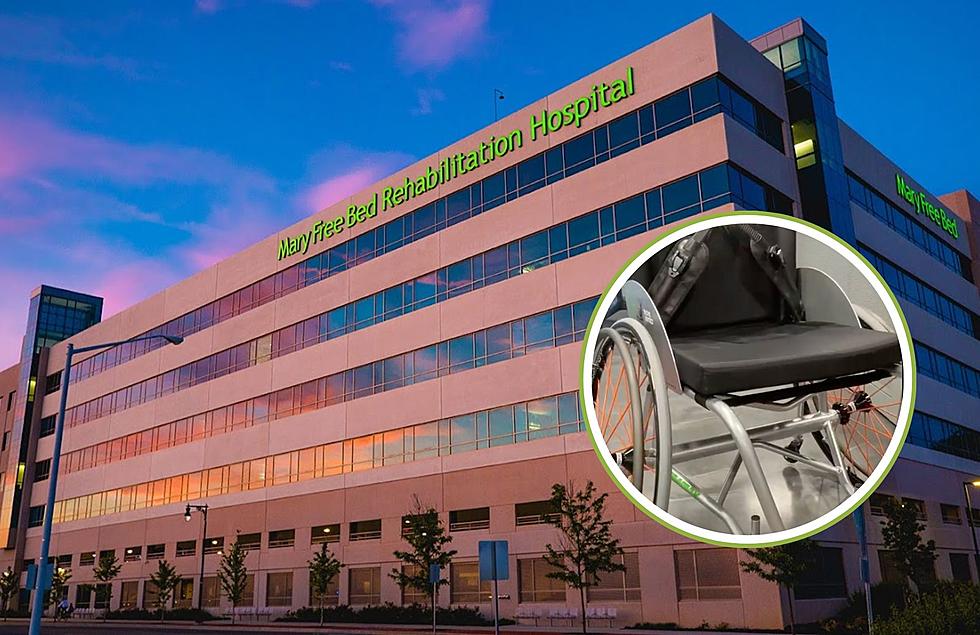 Mary Free Bed Wows 14-year-old Athlete With Custom Adaptive Wheelchair
Courtesy of Mary Free Bed / Canva
Mary Free Bed Rehabilitation Hospital does more than their name states. While they help people get back to a new normal, they also go above and beyond to improve the lives of their clients.
And that generosity extended to a 14-year-old west Michigan boy who got the surprise of his life when he arrived at Mary Free Bed on Thursday, May 18th.
14-year-old Sam Wright is currently a part of Mary Free Bed's Junior Pacers wheelchair basketball team, and previously participated in tennis. On top of that, he's now preparing for a season of lacrosse. But all of these activities are made easier with specialized wheelchairs and devices.
And now Sam is going to be able to do more thanks to the generosity of Mary Free Bed, who surprised him with a custom PER4MAX sports wheelchair, which retails at around $3,700-$5,000 depending on the model.
An expense that can be next to impossible for some families, made possible thanks to a $50,000 grant. And, Sam won't be the only one benefitting from this awesome act. Mary Free Bed has announced that they have been able to purchase additional chairs.
Mary Free Bed said they have been able to buy three sports wheelchairs, seven handcycles, in addition to other adaptive sports equipment all thanks to the recent grant they received from The Hartford insurance company.
And when Sam got his custom wheelchair, he was pretty excited to see how much easier it would make sports for him.
You can view the video of Sam's surprise on the Mary Free Bed facebook page, and of course find out how you can help with their mission on their website.
11 Helpful Facebook Groups in West Michigan That You Need to Join
These Facebook groups are a great way to stay connected to what's happening in West Michigan, whether you're new to town or have been a lifelong Michigander.