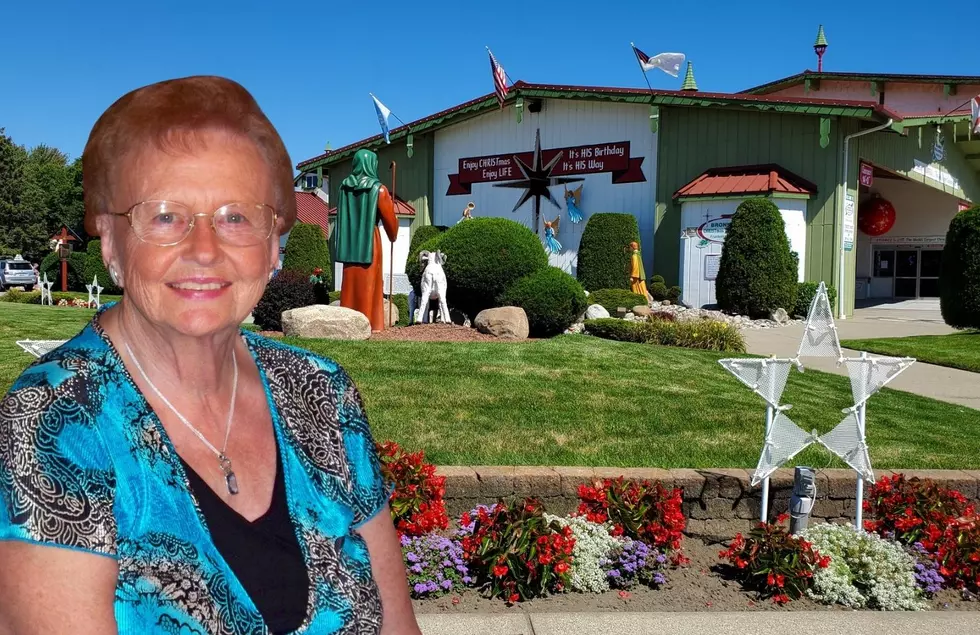 Irene Bronner Who Helped Create The World's Largest Christmas Store Has Passed Away
Credit: Bronner's CHRISTmas Wonderland via Facebook
Irene Bronner, who opened Bronner's Christmas Wonderland in Frankenmuth, the world's largest Christmas store, with her husband in 1951, passed away on Sunday, October 16th at the age of 95. Her husband Wally passed away back in 2008.
Life Before Working At Bronner's Christmas Wonderland
Before Irene joined Bronner's Christmas Wonderland full-time, she was a teacher at Frankenmuth Public Schools. She served on the store's board of directors and filled a wide variety of other roles there.
Irene Bronner's Funeral Service Details
According to ABC 12 Irene is survived by four children, along with grandchildren and great-grandchildren. Funeral services will be at 11 a.m. Saturday at St. Lorenz Lutheran Church, with visitation from 2 to 8 p.m. Friday at Cederberg Funeral Home in Frankenmuth.
Where Is Bronner's Christmas Wonderland?
Bronner's Christmas Wonderland is located at 25 Christmas Ln, Frankenmuth, MI 48734.
How Big Is Bronner's Christmas Wonderland?
The building itself sits on 7.35 acres
The total grounds cover 27 acres
Fun Facts About Bronner's Christmas Wonderland
Outside the entrance are three 17-foot-tall Santas and a 15-foot-tall snowman
Inside there are approximately 800 animated figurines throughout the store
The parking lot can accommodate up to 1,080 cars and 50 buses
100,000 lights illuminate Bronner's one-half-mile-long Christmas Lane at night
Bronner's employs over 500 people between October and Christmas
Bronner's Christmas Wonderland is visited annually by over two million people
Michigan designated Bronner's as an "Embassy for Michigan Tourism" in 1976
Each year, the store sells approximately 600,000 glass ornaments; 530,000 feet of garland; 150,000 postcards; and 86,000 light sets (nearly 530 miles of light cords)
Bronner's has the exclusive right to sell Precious Moments Christmas-themed figurines
The store is open 361 days per year
The History of Bronner's Christmas Wonderland
Bronner's Christmas Wonderland started from humble beginnings, quickly growing through several expansions to become the World's Largest Christmas Store, with beautifully landscaped grounds covering 27 acres. But for originator Wally Bronner, the journey has always been about CHRIST, and "decorating hearts with peace and love."
Wally was a permanent fixture in Bronner's, working only on days "that end in Y " as he always said. His warm smile and colorful jokes brought JOY to all he met. That legacy is still passed on to the millions of guests who experience Bronner's CHRISTmas Wonderland each year since his passing in 2008.
You can learn more about the history of Bronner's Christmas Wonderland here
Famous Celebrities You Might Not Know Are From Michigan
You will definitely recognize these names and faces, but might be surprised to find out they're from Michigan.