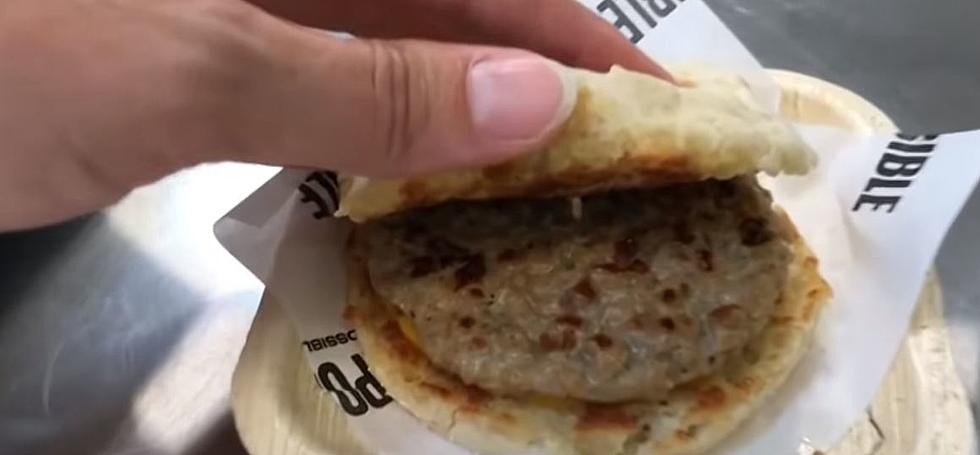 Impossible Sausage is Here and Lansing Area Burger Kings are the First in the Country To Taste It
KPIX CBS SF Bay Area/YouTube
Thanks to Burger King's Impossible Whopper, plant-based meat substitutes had quite a moment in 2019. Not letting the momentum die, Burger King and Impossible Foods are partnering again on a sausage-flavored patty that will be the centerpiece of a forthcoming Impossible Croissan'wich. Good news for you should you curious to try it- Lansing is the first test market in America to get the limited edition breakfast sandwich.
Cnet.com reports, that Impossible Foods will debut its sausage patty in its first fast food iteration at Burger King based on a sausage recipe that varies from traditional pork that
touts fewer calories than conventional 70% lean pork from animals (220 calories vs. 350 calories in a 4-ounce serving), less total fat (13 grams vs. 32 grams) and saturated fat (7 grams vs. 11 grams), and no cholesterol (compared with 86 mg in regular pork). But it does have 420 mg of sodium, versus 80 mg in pork. The protein contents, at 16 grams, are about the same.
Proving that the Impossible craze is truly intended for meat-eaters looking to cut back on their consumption of animals, the Croissan'wich will not be vegan as it will come with egg and cheese.
Enter your number to get our free mobile app
139 Burger King restaurants will get the Impossible Croissan'wich first. In addition to Lansing - the only Michigan location, they will be available in Savannah, Georgia; Albuquerque, New Mexico; Montgomery, Alabama and Springfield, Illinois.
The roll out of the product is expected in late January.
San Fransisco area TV station KPIX got a sneak peak in the Impossible kitchen were the sausage was created. Similar to their beef-ish patty in texture, the sausage patty will have a different spice and flavor profile.
So will you try the Impossible Sausage?
BONUS VIDEO - When Little Caesars Tried to Make You Breakfast