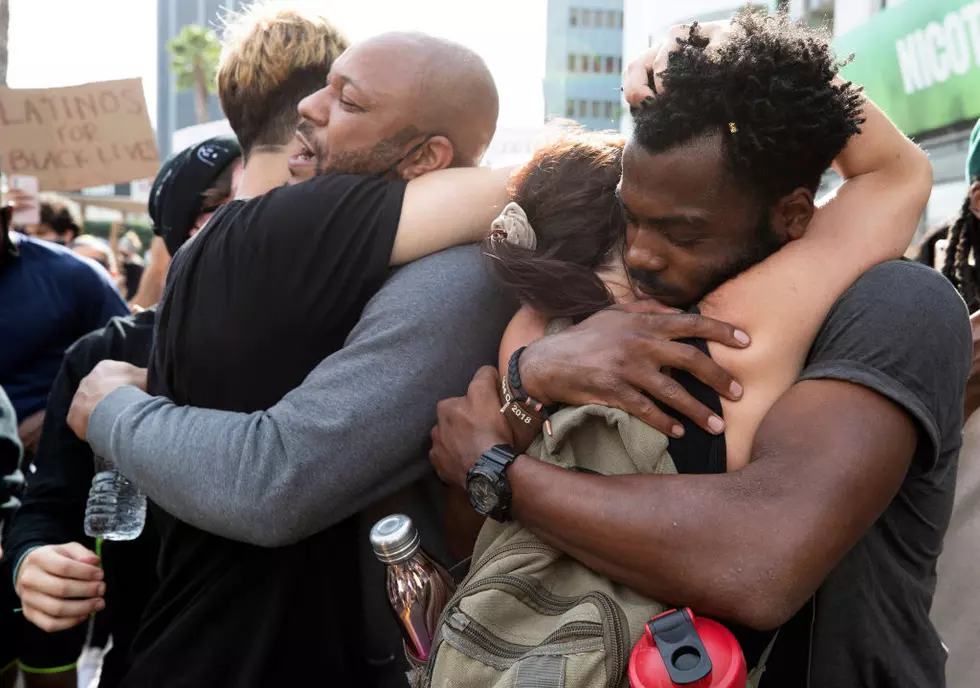 How The Protests Could Signal A New Spike In Covid-19 Cases
Getty Images
This is by no means an attempt to scare or persuade people not to protest.
But see that picture above? While there is healing, there is no social distancing and no face masks.
Enter your number to get our free mobile app
Now, I have seen plenty of photos of protesters and they have had them.
If you are going to protest, wear your masks. I'd suggest social distancing but when there's a group of people gathered to make your voices heard, you're going to be close. It's going to be pretty near impossible to make sure everyone is 6 feet apart.
And let's not forget the shouting and chanting and screaming.
And the police and other authority figures who might deploy tear gas and pepper spray.
That is going to make you cough. And breathe harder.
Massive protests across the country, where these very conditions exist on a daily for at least the past week, could prove to be the reason why Covid-19 numbers go up in the following weeks.
Tens of thousands of people, masked and unmasked, have thronged the streets of Minneapolis, Atlanta, Louisville, Ky., and other cities in the week since George Floyd died after a white Minneapolis police officer kneeled on his neck. They are the largest public gatherings in the U.S. since the pandemic forced widespread shutdowns, and many local officials warned of a possible spike in new cases in one or two weeks. (NPR)
Health experts urged protesters not to sing and shout to reduce the threat of person-to-person transmission. And they cautioned that police tactics such as tear gas and pepper spray could exacerbate the situation by prompting people to cough and gasp for air. (NPR)
And sad to say, it's already happening.
Oklahoma State linebacker Amen Ogbongbemiga announced Tuesday he has tested positive for the coronavirus after attending a protest in Tulsa. (Bleacher Report)
If you DO plan on protesting, please protect yourself and take a few simple precautions.
KEEP READING: Learning From Mistakes During the Spanish Flu