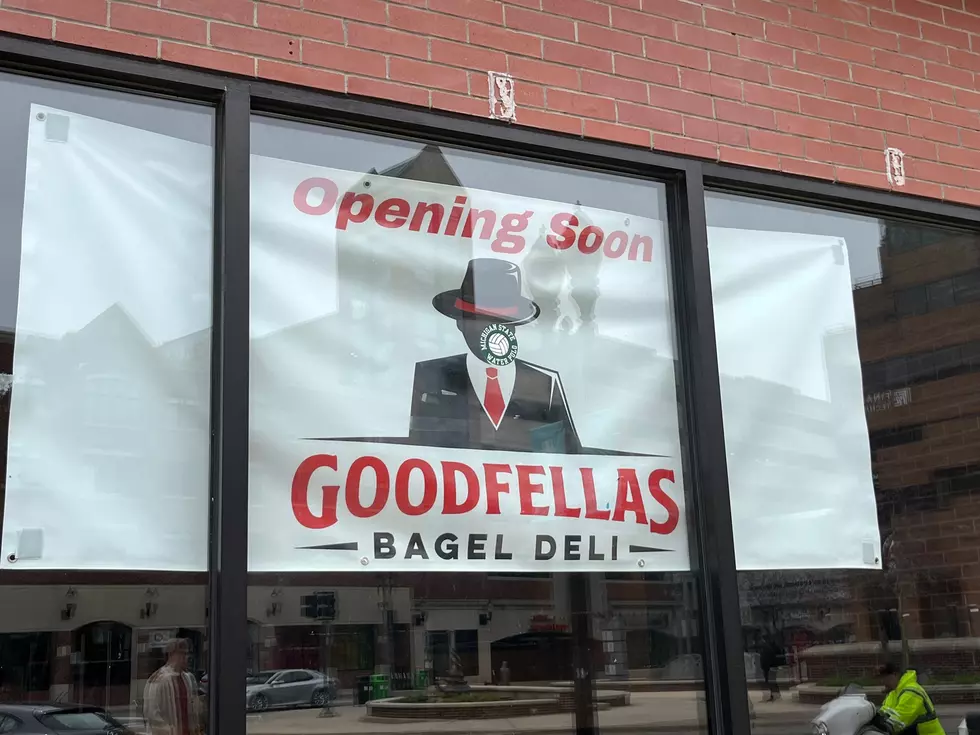 Another New Business is Opening in East Lansing
Photo courtesy of Kristen Matthews
It's so awesome when you see a locally owned business that is thriving. Especially, when it's thriving so well that they can open up a second location.
And that's exactly what's happening with one of Lansing's favorite breakfast spots.
A huge congrats out to Goodfellas Bagels in Downtown Lansing!
Goodfellas Bagels is Opening a Second Location in Downtown East Lansing
I was spending some time in Downtown East Lansing the other day when I saw the big sign in the restaurant window announcing their arrival.
Unfortunately, no specifics on exactly when they'll be opening up their second location...just "coming soon". However, we do know where they'll be opening.
The second location is going to be on the northwest corner of Albert Avenue and M.A.C. Avenue in Downtown East Lansing sandwiched right between Chopstix Grill and Lounge and Mad Eagle Boutique. It's taking over the old Poke Lab restaurant that was previously in that space.
Bagels and Breakfast Sandwiches
Goodfellas Bagels is a tremendously popular breakfast spot in Downtown Lansing. It's situated right at the corner of East Michigan Avenue and Pere Marquette Drive, right next to the old Clara's restaurant, and it typically has dozens of people waiting at the corner for a breakfast bagel on the weekends.
Goodfellas Bagels will join Bruegger's Bagels and Big Apple Bagel when it comes to breakfast bagel offerings. Perhaps one of the best, and most portable options when it comes to breakfast on the go.
New Businesses in Downtown East Lansing
Goodfellas Bagels isn't the only new business coming to Downtown East Lansing. We recently learned that Auntie Anne's Pretzels and a Jamba Juice are moving into the open space next to Noodles & Co. on East Grand River Ave. Raising Cane's and Detroit Wing Company look to be opening soon as well.
While we wait for Goodfellas to open their East Lansing location, check out the gallery below to see who else is serving up yummy bagels.
NEXT: The 10 Best Places to Get Bagels in the Lansing Area
These 15 Chain Restaurants are So Yummy that We Must Have Them in Lansing
Don't misunderstand; Lansing's food scene is absolutely incredible! It's got a variety of restaurants serving up a slew of delicious cuisines. But we think there's always room for improvement. Here are 15 chain restaurants that are so good that we think they should be added to Lansing's lineup, pronto!
16 Lansing Area Eateries with the Best Outdoor Dining
Since the weather is getting warmer, we're ready for some patio sittin' and sippin'. With that in mind, we went in search of Lansing area bars and restaurants with the best patios for outdoor dining. Check out the list below and see all the options for sitting outside.