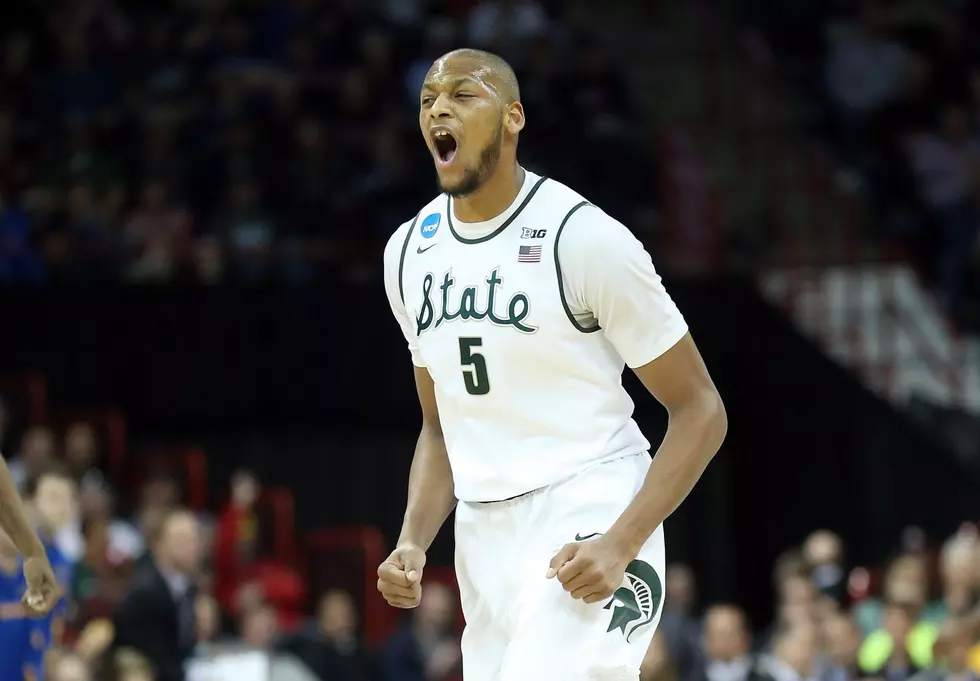 Former MSU Basketball Player Adreian Payne Passes Away
Getty Images
Former Michigan State men's basketball star Adreian Payne (pictured) has passed away at the age of 31, the Detroit Free Press is reporting on Monday morning.
Payne played for the Spartans from 2010-14.  He was named Second team All-Big Ten his junior and senior years (2012-13  & 2013-14 seasons) by both the media and coaches.
He was the first round pick of the Atlanta Hawks in the 2014 NBA Draft (15th overall).  He also spent time with the Orlando Magic.  And after his time in the NBA, he played in Europe in the highly regarded Greek League as well as in Lithuania, China, Qatar, France, Turkey, and Italy.
He was best known in college for his unique friendship with Lansing-area cancer patient Lacey Holsworth (also known as Princess Lacey), who passed away in 2014 when she was eight years old.  He paid tribute to her when he was drafted by the Hawks at the 2014 NBA Draft.
Payne was a five-star recruit out of Jefferson HS in Dayton, Ohio.  He averaged 15.6 points, 11 rebounds, and four blocks a game his senior year and he led Jefferson HS to a Division 4 state title in Ohio in 2010.
UPDATE:  Chris Solari of the Detroit Free Press and Kyle Austin of MLive.com are reporting that Payne was shot and killed early Sunday morning in Orange County, Florida.
Here's Solari's tweet:
Brock's All-Time Basketball Teams
Brock tells us his all-time best players in basketball.