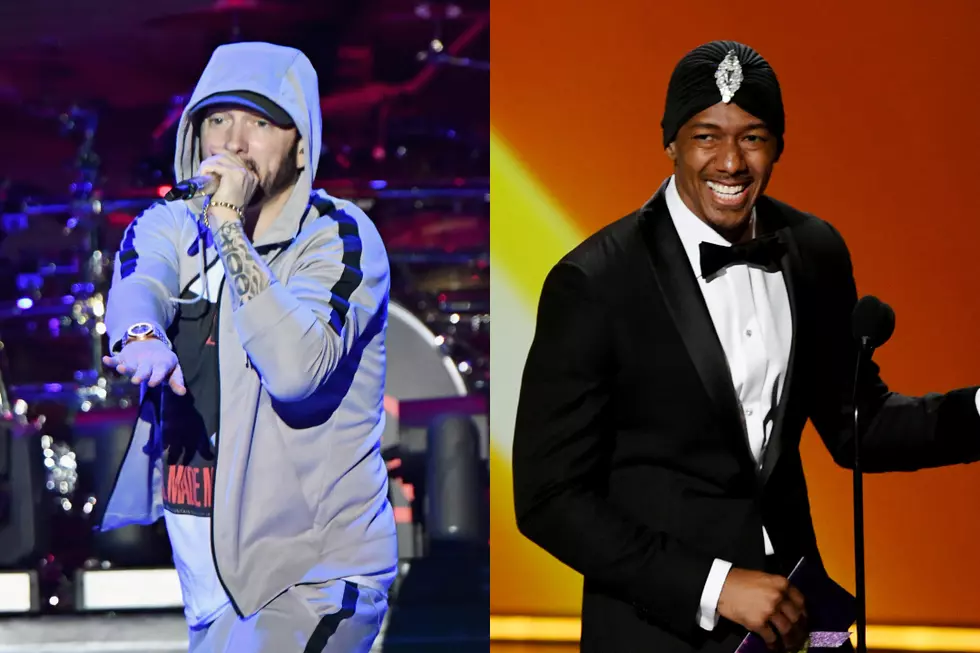 Eminem Responds to Nick Cannon's Diss, Calls Him a "Bougie F@!k"
Jeff Kravitz / Kevin Winter, Getty Images (2)
On Monday evening (Dec. 9), Shady sent out a tweet directed at Cannon, addressing the track and a specific bar where Nick alleges that Em's chauffeur has video of him "sucking a cock."
"I heard your chauffeur got a video of you sucking a cock/You paid him off then laid him off, now who really the opps."
"U mad bro? Stop lying on my dick," Marshall wrote in the tweet. "I never even have a chauffeur, you bougie f*ck."
"I demand an apology Nicholas," he continued in a later tweet, "you've made my gardener so jealous!"
Cannon dropped the song on Monday (Dec. 9). It features Suge Knight and battle rappers Hitman Holla, Charlie Clips and Prince Eazy. Shortly after it dropped, Nick took to Twitter to claim that the Detroit rapper's legal team had contacted him about the song. "FACTS! His lawyers didn't want that one out! They already on my line."
Cannon's diss track arrived three days after Eminem revisited their decade-long feud on Fat Joe's Family Ties song "Lord Above," which also features Mary J. Blige and producer Dre. On the track, Em brings up his alleged former relationship with Nick's ex-wife Mariah Carey and disses Cannon in the process.
See 21 of Hip-Hop's Most Unfortunate Rap Beefs
[gallery galleryid="812:526524" galleryindex="0" template="xxl" showthumbs="yes" enablefullscreen="no" ids="526734,526730,526731,526732,526733,526735,526736,526737,526738,526739,526741,526742,526743,526745,526746,526747,526748,526749,526750,526751,526740,619513"]