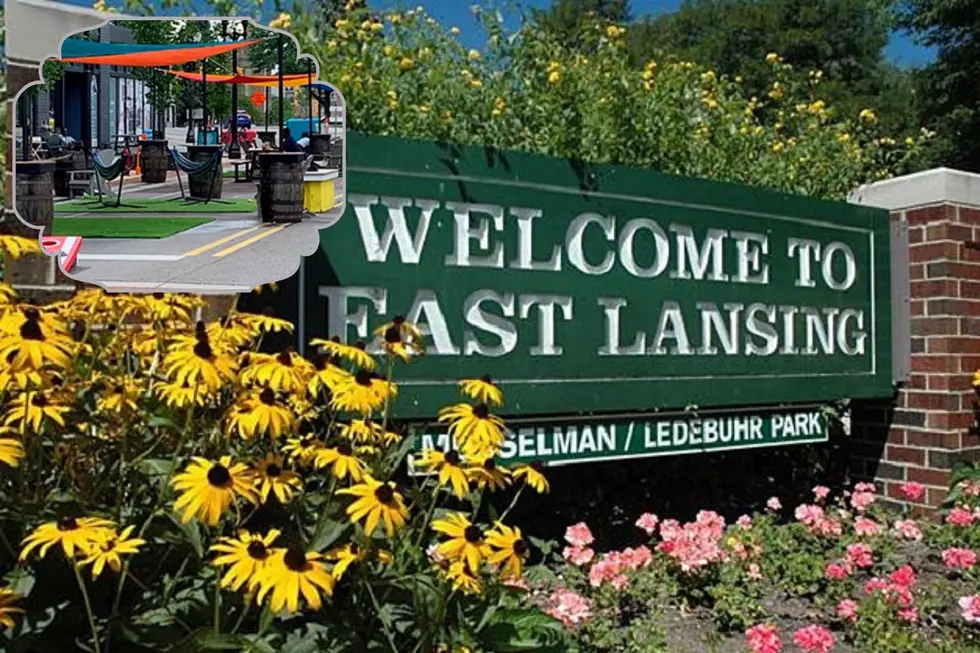 Wonderful Outdoor Social Area Returns to Downtown East Lansing
Both photos courtesy of City of East Lansing
Downtown East Lansing is always a hustling and bustling place, especially during the school year when all the students are in town. There are so many restaurants, bars, and shops to gather at and visit with friends and family. This summer, we'll see another opportunity to head outside and spend some time together.
Albert EL Fresco
Downtown East Lansing will see the return of Albert EL Fresco,
a pedestrian-friendly area located along Albert Avenue, between Abbot Road and M.A.C. Avenue. The space features outdoor seating and tables, rocking chairs, hammocks, decorative lighting, shade amenities, games and more. Several events and programs are also hosted in the space
I've got to say that the name is great; Albert EL Fresco...al fresco, meaning an open-air outdoor dining area, but EL for East Lansing. I love a good pun.
The fun and lively outdoor space would make for an excellent family night out. It features games like cornhole, giant Jenga, Connect 4, and more. Plus, there are a couple of ways to dine while you're there.
East Lansing Outdoor Dining
If you want to bring your own food and drink, you're more than welcome to do that and enjoy some of the outdoor space, like the tables or fun games of cornhole. However, you can't bring in your own alcohol.
If you'd like to enjoy an adult beverage, you'll have to purchase one from one of the bars or restaurants and enjoy that in their specific outdoor dining space. Keep that in mind, because not all bars and restaurants in the area have their own outdoor dining area.
If instead of bringing your own food, you decide to dine out in Downtown East Lansing, there are plenty of places to choose from. Do you want tacos? Hit up, Barrio. Hankering for some bar food and a cold beer? Try places like Jolly Pumpkin Brewery or HopCat (which has dozens of beers on tap).
Downtown East Lansing Events
Besides dining, drinking, and fun lawns games, there are also a variety of events scheduled throughout the summer. There's an opportunity to take some free yoga classes, enjoy live music, and more. You can take a look at their full events calendar HERE.
If you love outdoor dining, there are some awesome places in Downtown East Lansing you can check out. Take a look through the pictures below and see what made the list for the best patios in the Lansing area.
16 Lansing Area Eateries with the Best Outdoor Dining
Since the weather is getting warmer, we're ready for some patio sittin' and sippin'. With that in mind, we went in search of Lansing area bars and restaurants with the best patios for outdoor dining. Check out the list below and see all the options for sitting outside.
Want to enjoy something similar to this, but in Lansing? Check out the restaurants that are participating in Lansing's three different Social Districts.
Bars and Restaurants Participating in Lansing's Social Districts
Have you ever heard of a "social district"? It's an area that allows you to enjoy booze while out in the great outdoors. And by great outdoors, I mean some city blocks downtown. Lansing has officially decided to make the once temporary social districts a permanent fixture. Now, you can enjoy your favorite beer, wine, or cocktails in certain public areas in Lansing. You can find Lansing's social districts in Downtown, REO Town, and Old Town. Check out the list below to see which bars and restaurants are participating.
These 22 Lansing Restaurants Serve Up the Best Breakfast Around
They say that breakfast is the most important meal of the day. Now, I don't know who "they" are exactly, but I have to agree. In fact, I would go so far as to say that breakfast is the best meal of the day...that's why so many places serve breakfast at any time of the day. When it comes to awesome places to get breakfast, the Lansing area has no shortage. Look through the gallery below and think about what kinds of breakfast plans you want to make for this weekend.