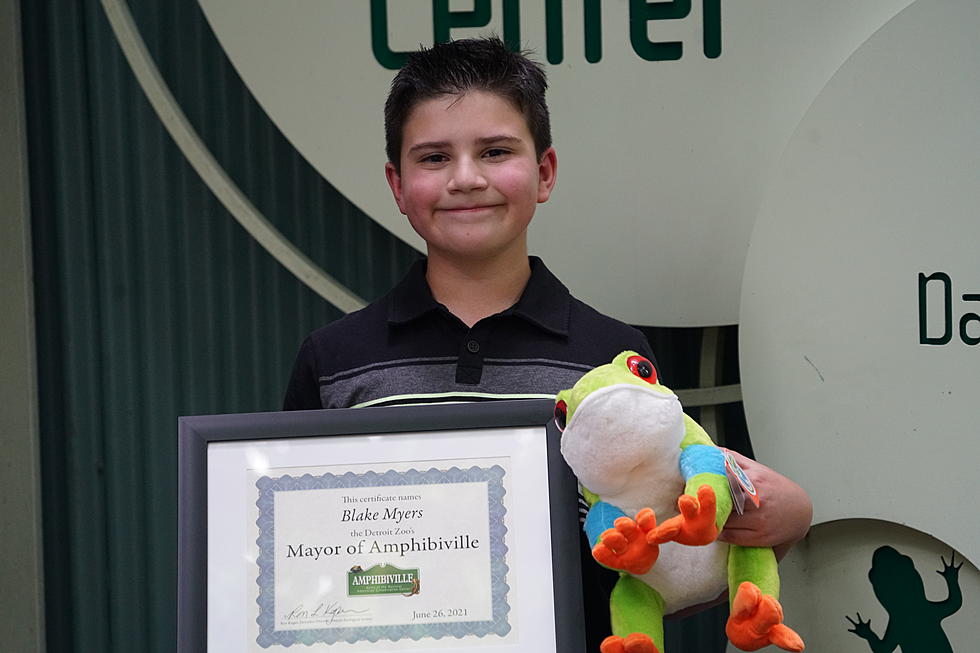 Detroit Zoo Swears in Young Michigan Boy as Mayor of Amphibville
Photo: Detroit Zoo
There's a new mayor in town..well at the Detroit Zoo at least.
An 11 year old Oxford, Michigan boy was sworn in this past weekend as the new Mayor of Amphibiville at the Detroit Zoo. Blake Myers, was sworn in as Mayor of Amphibiville on Saturday for a two-year term. Myers was selected from a slew of candidates, ages 7-12, who submitted  essays telling the Detroit Zoological Society all about what they can do to help amphibians.
Blake's essay stood out with his plan to create a monthly newsletter called The Amazing Amphibians, and organize a 5K race benefitting the NACC and educate others on how to preserve habitats while also creating new ones. In honor of his new position there will be a plaque bearing Blake's name and photo displayed in the NACC during his entire term. He also received a plush frog and one-year family membership to the Detroit Zoo.
The National Amphibian Conservation Center at the Detroit Zoo a world-renowned center for amphibian conservation, care, exhibition and research. Even dubbed "Disneyland for toads" by The Wall Street Journal when it opened in 2000 according to a press release. The state-of-the-art facility features a everything from frogs, toads, salamanders, newts and caecilians. Amphibiville covers 2 aces of wetland at the zoo.
Now back to business as usual after the pandemic, the Detroit Zoo is excited for a family fulfilled summer. The zoo welcomes about 1.5 million visitors annually to see their more than 2,400 animals representing 235 species.  One very cool thing about Michigan's favorite zoo is that they were the first zoo in the United States to use barless exhibits extensively.
Congratulations to Mayor Myers!
MORE: Unique Pets You Can Legally Own In Michigan