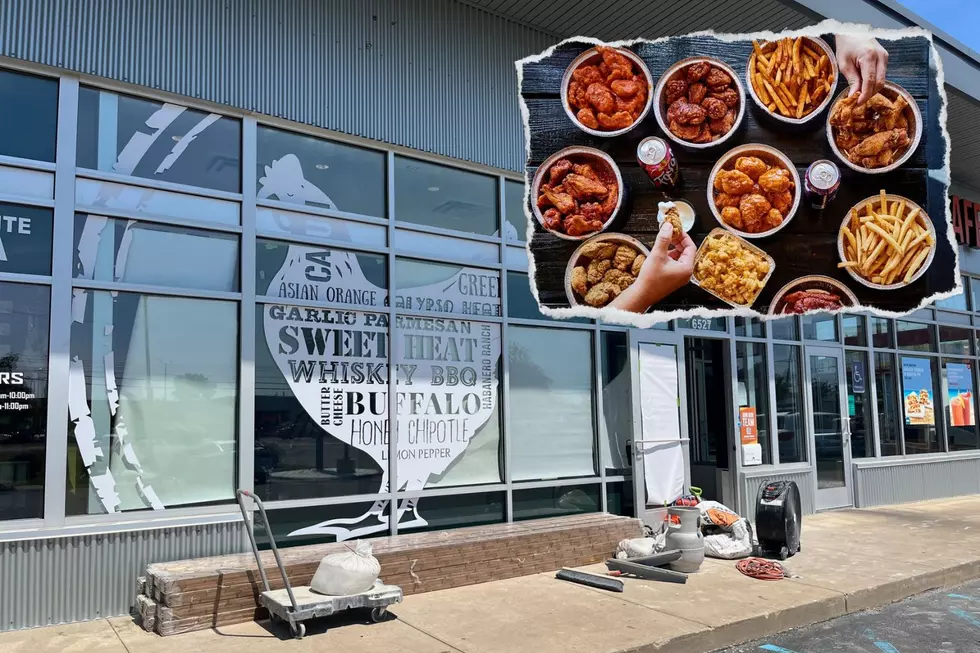 Detroit Wing Company Location in South Lansing Opens This Summer
Photos courtesy of Kristen Matthews and Detroit Wing Co. via Facebook
Lansing will soon have a new wing joint to enjoy because it's finally happening. They are finally opening their doors.
Detroit Wing Co is Coming to Lansing
Back in November, the Detroit Wing Co. announced on its Facebook that they planned on opening a location on the south side of Lansing. This would be the first location for the Lansing and mid-Michigan area. However, there was no word on exactly when they would be opening, just a general "coming soon".
Now, we know that it will indeed be soon.
Detroit Wing Co Opening Soon in Lansing
Thanks to the abundantly delicious and helpful Lansing Foodies group, someone posted that they had noticed that all the giant stickers covering the windows had come down. They posted into the Foodies group wondering what was up...were plans for the location canceled? Or were we going to get some new wings to try out?
Thankfully, some people employed by the soon-to-open wing joint chimed in to let us know that all was well. The stickers had come down because they were finishing up inside and getting ready to open and they would indeed be open soon. One employee was even specific enough to mention that, barring any troubles, they'd be open by July 18th.
We're pretty excited for a new wing place coming to Lansing, especially one that is so well-loved and has been voted the "Best Wings in Michigan". No joke; Detroit Wing Company has been voted as having the best chicken wings by Buzzfeed, Esquire, MSNBC, and plenty more places.
We wanted to see if all the hype was true, and it seems like it is. The reviews for this restaurant are all pretty great. Here's a review that Jim V of Lansing posted on Yelp:
Picked up an order of boneless Buffalo wings and they were great, also it was happy hour so they were 40% off at that time. Friendly service also made this a great experience, I'll definitely try it again when I'm in the area. Blows BW3 away...
We know, you're just dying for some Detroit Wing Company wings now, but you'll have to wait at least a few more weeks. When it does open its doors, you can find it at 6527 S Cedar St, next to Big John Steak & Onion.
Heads up—Detroit Wing Co. is working on an East Lansing location as well. When they open up the EL location, it'll fill a wing void that was left when Wings Over East Lansing closed. Read more about that HERE.
If you're drooling, here are some other delicious Lansing area restaurants you can check out in the meantime.
Best Breakfast Burritos in the Lansing Area
I feel that not only is breakfast "the most important meal of the day", it's also the best meal of the day. That's why there's such thing as brinner (breakfast for dinner) and diners/restaurants that offer breakfast items 24/7. The epitome of delicious and portable breakfast options is a breakfast burrito. If you want a hearty breakfast that's filling and perfect for on-the-go eating, a breakfast burrito is the way to go. We've put together a stuffed list, filled with the best breakfast burritos in the Lansing area, and here's what we've come up with. Check out the mouth-watering gallery below.
16 Lansing Area Eateries with the Best Outdoor Dining
Since the weather is getting warmer, we're ready for some patio sittin' and sippin'. With that in mind, we went in search of Lansing area bars and restaurants with the best patios for outdoor dining. Check out the list below and see all the options for sitting outside.
These 22 Lansing Restaurants Serve Up the Best Breakfast Around
They say that breakfast is the most important meal of the day. Now, I don't know who "they" are exactly, but I have to agree. In fact, I would go so far as to say that breakfast is the best meal of the day...that's why so many places serve breakfast at any time of the day. When it comes to awesome places to get breakfast, the Lansing area has no shortage. Look through the gallery below and think about what kinds of breakfast plans you want to make for this weekend.