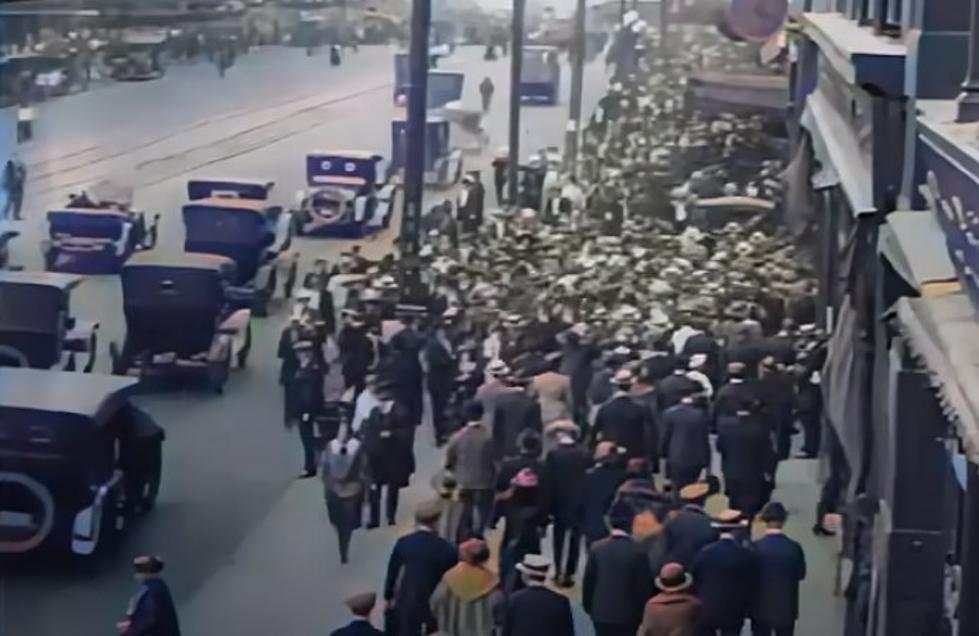 1920s Detroit Comes to Life in AI Enhanced, Colorized Video
RandomStrange History TV via YouTube
A 100-year old-video shot in Detroit has been restored and updated to give us a window to the past. Watch as the Prohibition-era Motor City comes to life.
The pleasing first impression of the sun sparkling on the Detroit River quickly fades as we see an armada of shipping traffic on Detroit river with smoke pouring out of the stacks of the vessels, mingling with the pollution belching form the factory chimneys on land.
Then, we realize, we are seeing this in a new way for the first time.
RandomStrange History TV has a fascinating YouTube channel dedicated to restoring and enhancing old film and video clips. Artificial intelligence and advanced colorization processes have been used to rehabilitate this footage of Detroit commissioned by the Ford Motor Company in 1921.
Detroit was the 4th largest city in the nation in 1921, with "1,088,853 people, 20,000 places of business, 2,600 major manufacturing planes and 180,000 homeowners," making it "Where life is worth living," according to this promotional video. There are some fascinating downtown shots, with Model Ts and streetcars filling the bustling streets. Many of these buildings are still standing, like Michigan Central Station (1:18) which is finally getting a well-deserved renovation and restoration today. You can also see the Ford automotive plants, as the company financed this promotional video.
Another thing you can't help but notice: hats. Literally everyone is wearing a hat in this video. (I thought I spotted a kid without one, but then realized he was holding it in his hand.) Go ahead, watch the video again and you'll be obsessed with the hats. There is a lot of activity in this film, with a mesmerizing, disastrous traffic pattern that is impossible to understand, people moving about downtown, heading to and from work, others frolicking at the beach, or playing at the park, but no discernable plot.
Take seven and a half minutes and travel a hundred years back in time to Detroit in 1921, thanks to this AI enhanced, colorized video. Oh, and if you ever rode the ferry to Boblo Island, you won't want to miss the end.
UP NEXT: The All-Time Greatest Detroit Tiger Starting Lineup