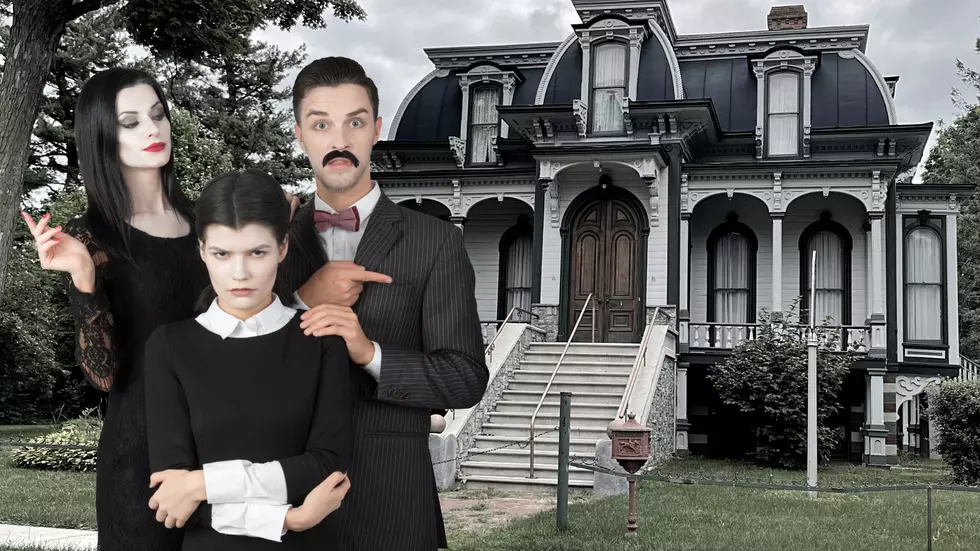 Coldwater's Wing House Museum Is Giving Off Serious Addams Family Vibes
Meatball/TSM
It may be well past Halloween now, but The Addams Family is still fresh on people's minds with the recent drop of the Netflix Series "Wednesday," which follows the Addams' eldest child as a student, attempting to master her growing psychic abilities.
In fact, Kalamazoo even gets a shout-out in one of the episodes.
But you don't have to travel to... wherever the Addams' are from to catch their vibe. There's a building down the road in Coldwater that might just take you there.
The Wing House Museum has been a staple in Coldwater for a VERY long time - it was built in 1875 for resident Jay M. Chandler and his young wife, Frances.
The site was previously Parrish Flouring Mill, but after 1870, the business eventually went downhill. When that closed, Chandler had the home built on the property. He was the youngest of four brothers and followed them all into the family hardware business. His Father, Albert Chandler, was the founder of the Coldwater Sentinel and sat as Coldwater's first mayor.
In 1882, the home was sold to Lucius Wing, which is where the house gets its namesake.
THAT was back in the late 1800s though. Now, in 2022, the incredible Second Empire-style home still stands, mostly original and restored to what it would have been like when Chandler and his wife lived there.
It's been on the National Register of Historic Places since 1975, and if it has familiar vibes of a certain "Horror Family" mansion, it's because both are based on the same time period.
Obviously, the Addams' Mansion is a movie prop, and some people have replicated it in places around the country for Airbnbs or tourist purposes, but the basic idea was to build a late 19th-century townhouse... and the Wing House just happens to be an ACTUAL late 19th-century townhouse.
In the past, the museum has been open periodically for tours, but at the moment, it seems to be closed. A Facebook post in August of 2020 said it was closed for repairs, but it doesn't seem like it has reopened any time since then.
Nonetheless, the building is incredibly beautiful on the outside, and you can still drive or walk by it. And for those not so into the "macabre" Addams Family vibe, it is quite colorful... not black and white.
Texas Woman's Creepy Take On The Christmas Story Leg Lamp
She's sold nearly two dozen so far and also makes lamps based on other characters, including a female Jack and Beetlejuice, Winifred Sanderson lamps, but Sally-inspired lamps are the most demanded. You can see her
work here.