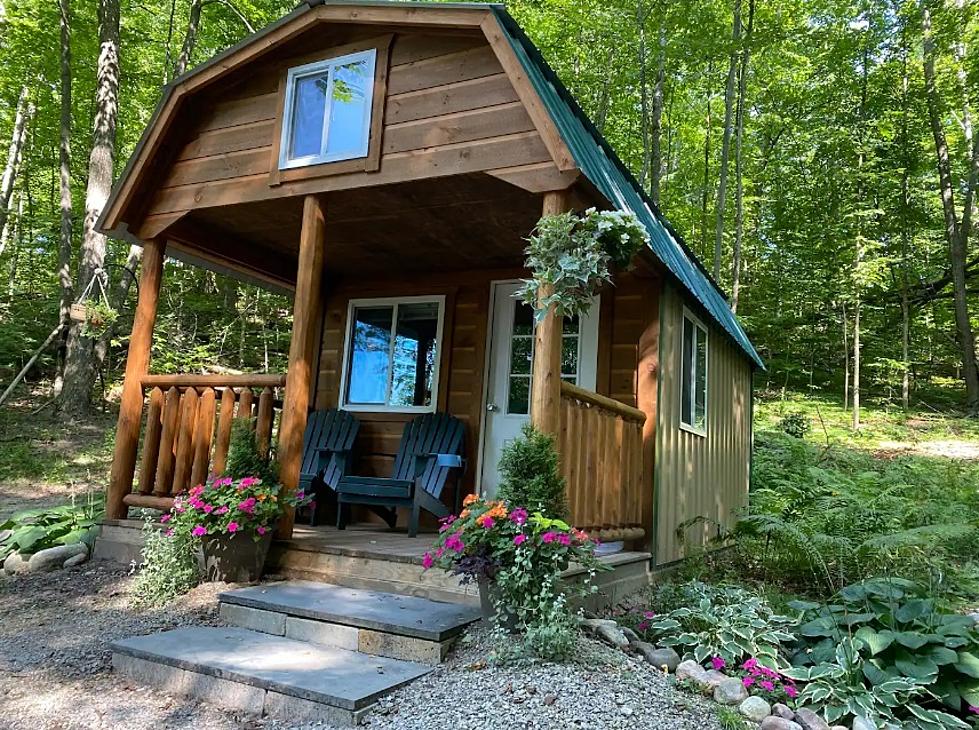 Camping at the Honeypot Farm in Petoskey, Michigan
Sam and Mike via Airbnb.com
One of the best ways to recharge is by unplugging and spending a few days in nature. If you're someone who enjoys camping but doesn't enjoy having to pitch their own tent, I found a way for you to camp in style.
Canna Cabin in Petoskey, Michigan
Let's go glamping! What's glamping you ask? It's a form of camping that's a little more luxurious than traditional camping.
You can spend a week or weekend off the grid glamping in Petoskey at Canna Cabin! It's a 200 square foot cabin at a flower farm called Honeypot Farm. It features a queen sized bed and full futon mattress. A nearby trail will lead you to the bathroom facilities.
The outdoor area has seating, a charcoal grill and fire pit. A free wheelbarrow of wood will be available for you upon arrival. It's $10 for a refill. How do you feel about blackberries? If you visit during blackberry season, you can enjoy some in the meadow.
Just like most camping situations, the Canna Cabin does not have heating or cooling, so pack accordingly.
Guest Reviews
There's been nothing but positive reviews from all of the guests at Canna Cabin, that's why it has 4.98 stars. Some individuals said that the hosts even left restaurant and activity recommendations for them. Here's what one of it's guests had to say;
We loved this clean, cute, little cabin in the woods. The area was well kept with beautiful flower arrangements, super clean porta potty, sink and shower. It's close to town but far enough away to feel like we were "glamping". We will definitely be back again!
Book your trip to Petoskey now! Don't forget to scroll for more pictures on your next glamping experience!
Camp at the Honeypot Farm in Petoskey, Michigan
Reconnect with nature at the Canna Cabin.
The 200 ft. Tiny House in Charlevoix, Michigan
Unplug and live minimally for a weekend in Northern Michigan.
The Loveboat in Lake Ann, Michigan
Are you and your significant other in need of some quality time? The Loveboat is the perfect place to reconnect.
The 'Floathaus' in Douglas, Michigan
You can completely unplug and let your worries float away at the houseboat.