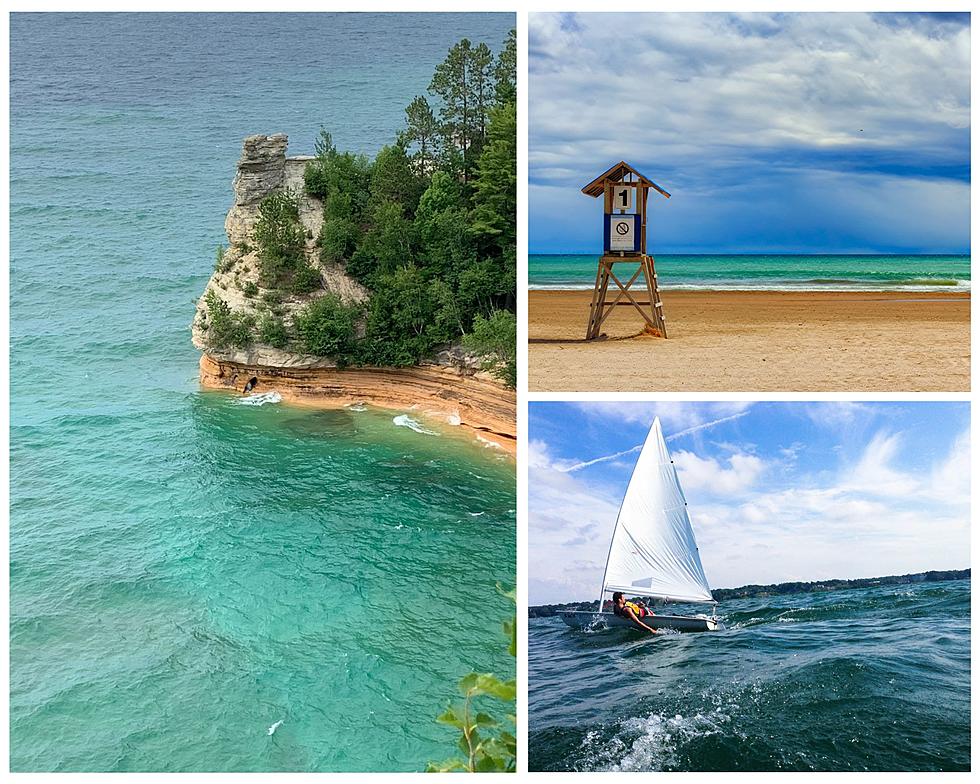 All 5 Great Lakes in the Running For Best Lake in the U.S. – As They Should Be
MDARD. Michael Henry via Unsplash, Lukasz Szmigiel via Unplash
They're called "The Great Lakes" for a reason!
In Michigan we wear shirts that say "4 out of 5 Great Lakes prefer Michigan" - so yeah, we get that they're awesome.
Honestly I'd be pretty miffed if all five Great Lakes were not in the running in this national competition...
Lake Huron, Lake Ontario, Lake Michigan, Lake Erie, and Lake Superior are all up for "Favorite Lake in the U.S." in a USA Today and 10Best poll.
So what's YOUR favorite Great Lake? (Having grown up on it, I'm partial to Lake Michigan.) You can vote for your fave once per day until polls close on Monday, June 5 at noon.
Here's USA Today's praise for each Great Lake. Click on each lake name to vote for it!
Along the Canada-United States border, Lake Huron showcases the abundant natural beauty found in both Michigan and Ontario. Natural sites abound across the region, with top-tier outdoor adventure destinations like Port Crescent State Park and Bruce Peninsula National Park open for exploration, while towering lighthouses and sunken shipwrecks are all waiting to be discovered along the Huron shore.
The smallest of North America's Great Lakes, Lake Ontario makes up for its short stature with a colossal array of landmarks and attractions to explore across the Golden Horseshoe, a Canadian region that's home to more than 7 million inhabitants. During a visit, guests can explore settlements ranging from Toronto to Niagara-on-the-Lake, while the New York side of Lake Ontario is rife with scenic state parks.
Perched along the borders of Illinois, Indiana, Wisconsin, and Michigan, the aptly named Lake Michigan serves as the largest lake on Earth to reside solely in one country. In addition to gorgeous natural sites like Indiana Dunes National Park and Sleeping Bear Dunes National Lakeshore, the Lake Michigan coast is lined with dazzling cities like Green Bay, Milwaukee and Chicago, offering visitors an opportunity to blend outdoor adventure with urban exploration during their next trip.
Measuring in at a staggering 31,700 square miles, Lake Superior has the largest surface area of any freshwater lake on planet Earth. This colossal body of water plays host to a massive array of native marine life including lake sturgeon, yellow perch and walleye, while human settlements around the region span from Canada's Thunder Bay to the scenic Michigan Upper Peninsula city of Marquette.
It may be the shallowest of North America's Great Lakes, but Lake Erie has a massive amount of potential when it comes to both tourism and outdoor adventure. Buffalo, Cleveland and Toledo are just a few of the storied cities that can be explored along the Erie shore, while recreation opportunities range from fishing to birdwatching to even shipwreck diving.
The Great Lakes (and other Michigan Lakes) are also in the running in a few other competitions too!
For "Best Swimming Lake" in the U.S. you can vote for Lake Charlevoix, Lake Huron, Lake Michigan, Lake Superior, and Lake Erie.
In the "Best Lake for Watersports" category, Lake Erie, Lake Huron, Lake Michigan, and Lake Superior are in the running.
Sunshine Charters in Charlevoix is also up for "Best Boat Tour in the U.S.
Think you know everything about the Great Lakes? Here's 12 things you might not know.
7 Lakes With The Weirdest Names in Michigan
With so many lakes in Michigan, Great and otherwise, it must be difficult to name them all. Here are some of the weirdest lake names in Michigan and the story behind it.