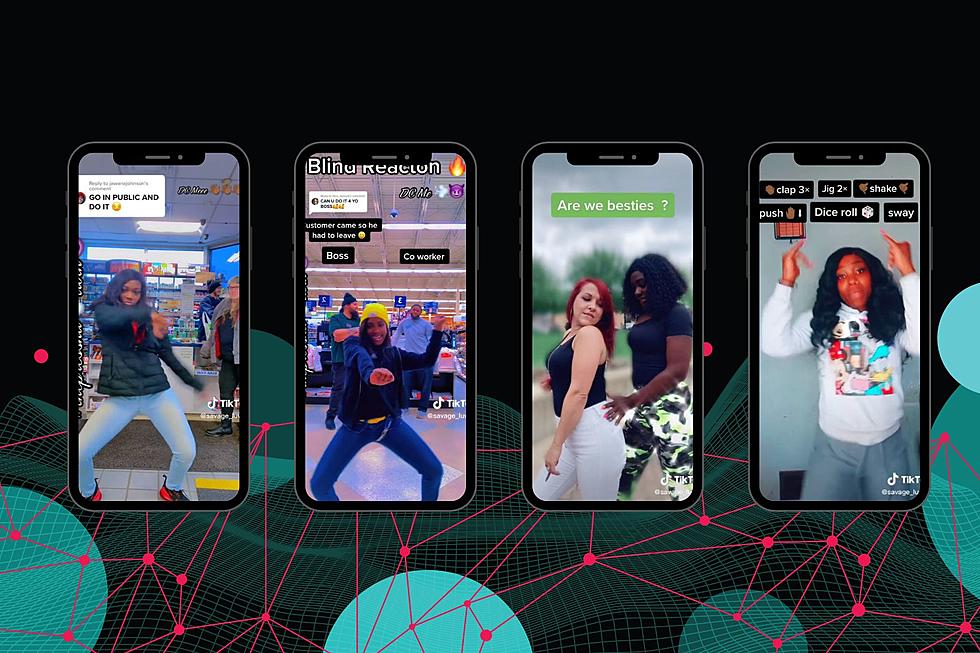 Battle Creek Mom Dances Her Way Through Southwest Michigan
savage_luvv87 on TikTok
This Battle Creek woman is inspiring people with her high energy, and public dancing.
Anietra goes by @savage_luvv87 on TikTok where she has 84.5 thousand followers and 1.5 million total video likes. Anietra is a mother of 5 who works as a cashier at one job and assistant manager at another job. When she's not busting her butt at work she's bustin' a move on TikTok and spreading positive vibes. This is how Anietra describes her TikTok content,
I would describe my content as fun energetic and inspiring ppl tell me all the time that I inspire them to come out of their shell and be themselves.
Videos of her dancing in public places have really taken off on the popular social media app. @savage_luvv87's most-watched video is proof of that. Here she is dancing at work in front of her boss and one of her co-workers. This video has been viewed 376.9 thousand times with 33.5 thousand likes.
---
Someone commented on one of her previous dance videos and asked her to "go in public and do it." So, she did it... at a gas station. This video has been viewed 206.7 thousand times.
---
In @savage_luvv87's third most viewed video, she stirs the pot a little with her bestie to the tune of 175.4 thousand views.
---
People are always asking her for dance tutorials in the comments of her videos.  One of Anietra more popular videos is a dance tutorial pulling in 153 thousand views so far.
---
Anietra's 3 Favorite TikTokers
deedeebarnes92 "Because that's my TikTok sister my PRESSHA twin and my best friend ❤️"
growwithivy "Because she is so positive. She doesn't let the negativity get to her and she encourages others to be the best they can be."
loudmouthjuanita  "Because she is just too dope with all of her content. She is someone that actually inspires me to work on my slow mo "
See more of savage_luvv87 on TikTok by clicking here.
You can follow 103.3 KFR on TikTok by clicking here.
Are you or someone you know a TikTok creator based in Southwest Michigan with at least 10,000 followers? If so, you can nominate yourself or someone you know below. Your nomination can be a person, local business, sports team...etc.
Then/Now - Southwestern Junior High School in Battle Creek
If you were to drive by the school today, you'd think it could reopen any day. But upon further investigation inside, it's clear this building may have seen its last days. Built in 1927, the building has sat empty since about 2009. Multiple fires, vandalism, and improper care have now left it to only hold bright memories where dark hallways and burned books now remain.
23 Biggest Southwest Michigan TikTok Creators in 2023
These are the TikTok creators in Southwest Michigan ranked by followers. Updated 01/13/2023