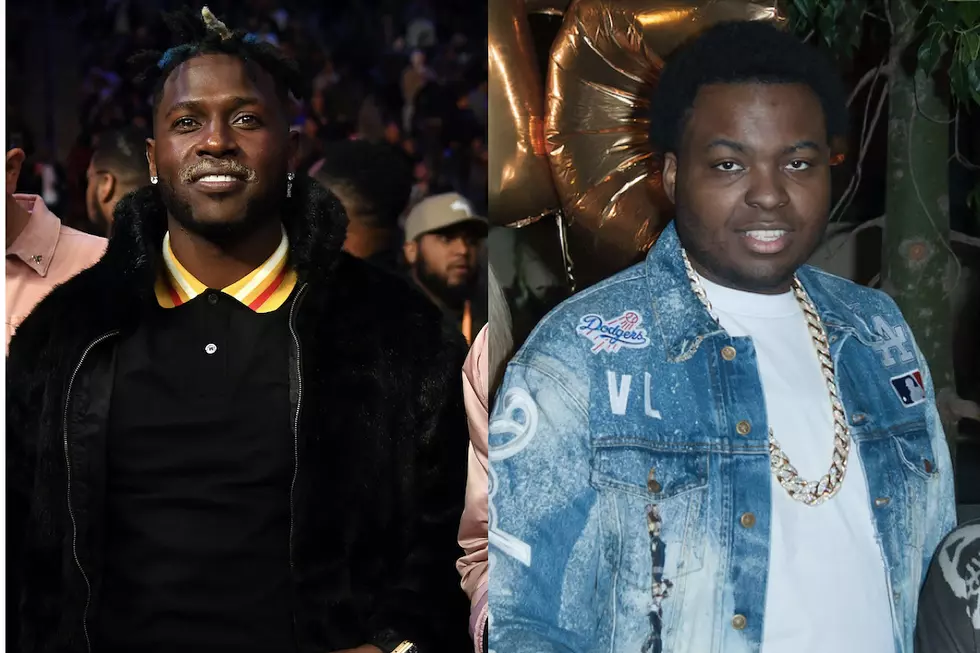 Antonio Brown Says He's Working on Album With Sean Kingston
Jayne Kamin-Oncea / Lilly Lawrence, Getty Images (2)
Although Antonio Brown is not playing in the NFL right now, he's not letting his idle time go to waste.
On Monday (Dec. 2), the free-agent wide receiver jumped on his Twitter page and announced that he's recording a musical project with singer Sean Kingston of "Beautiful Girls" fame. In one tweet, he teased a snippet of a new song along with artwork featuring him and Kingston. "Pre listening vibes...coming Friday stay 2020 Cab Records Inc. AB X SK," he wrote.
In another tweet, AB revealed that he's going to share his real-life experiences in his music, which, apparently, includes his story about getting shot in the ear while growing up in the projects.
"Going to be telling my story in these songs all truth," he tweeted. "I had the biggest police chase at fiu university campus. Mario Cristobal was the coach ask him! Or Me getting shot in the ear In the left...In liberty city pink n grey projects! Then I walk on to CMU!!! 2020 [Cab] Records."
"My Life really a miracle," Brown concluded.
For those who don't know, Brown grew up in Florida's Liberty City, Miami. During his teenage years, he competed in football and track at Miami Norland High School. He received a scholarship to play at Florida International University (FIU), but he was expelled following an altercation with a security guard. Brown would later play college football at Central Michigan University (CMU).
Brown hasn't been on the gridiron ever since he was released from the New England Patriots back in September after a woman filed a civil lawsuit against him. In her suit, she accused the football player of rape. Brown has since vehemently denied the allegations.
See Antonio Brown's tweets below.
See 25 of the Best Hip-Hop Album Intros Since 2000